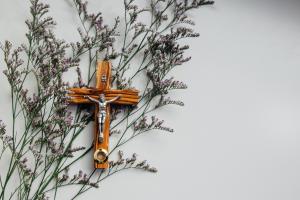 This summer I've been preparing to present at an upcoming BYU Sperry Symposium that will focus on the New Testament and its teachings about the family. My specific presentation is about Christ's Crucifixion as a model for love in marriage and family.
A Wedding with a Crucifix
As I've been exploring different aspects of this topic, I came across a blog post by Carissa Pluta that talks about Catholic weddings in a small town—a town that has a zero percent divorce rate. Perhaps one reason for the amazing marital harmony in this town, Pluta suggests, is that the Catholic wedding ceremonies performed in this town specifically focus on the Crucifixion of Jesus Christ, and this focus on the cross carries into the marriage.
At the wedding, the couple being married bring a crucifix for a key part in the ceremony. According to Pluta, "The priest says, 'You have found your cross. And it is a cross to be loved, to be carried, a cross not to be thrown away, but to be cherished.' He then blesses the Crucifix. During the exchange of vows, the groom holds the crucifix in his right hand and the bride places her right hand on the top of the crucifix, uniting their hands together."
The crucifix used in the wedding is prominently displayed in the home of the couple. It serves as an important reminder of their wedding vows.
A Wedding at an Altar
I think many Latter-day Saints would see such a wedding ceremony as quite foreign to their own notions of marriage. But then I realized that Latter-day Saint sealing ceremonies also contain important Crucifixion symbolism.
As I discussed in my book Considering the Cross, in sealing rooms, the altar is typically placed in the center of the room. Altars are, of course, symbolic of the death of Christ and have been for millennia. For example, Abraham built an altar, and laid his son Isaac on it. That act was "a similitude of God and his Only Begotten Son" (Jacob 4:5; see also Genesis 22:9, Leviticus 9:7, 2 Chronicles 29:24, Moses 5:5-7).
Thus, a key element in the sealing room points to the death of Jesus Christ.
Moreover, Elder Bruce C. Hafen described a temple sealing he performed as follows: "I invited [the couple] to the altar, and as the groom took the bride by the hand, I realized that they were about to place upon that altar of sacrifice their own broken hearts and contrite spirits—an offering of themselves to each other and to God in emulation of Christ's sacrifice for them."
As described by Elder Hafen, in a temple sealing, the couple being married take each other by the hand. They are completely willing to sacrifice themselves just as Christ sacrificed himself for each of them.
Whether one thinks of the altar itself, or the hands clasped together on the altar, the Crucifixion of Jesus Christ is literally at the center of the sealing ordinance.
A Reminder of Christ's Love
Although no crucifix is involved in Latter-day Saint wedding ceremonies, Christ's death on Calvary is an integral part of temple sealings. Deeply understanding this symbolism can infuse marriages with love.
Christ demonstrated what love is on the cross (see John 15:13). His love is symbolically at the center of a temple sealing and can be at the heart of married life. When a husband and wife are sealed together in the temple, their marriage is no longer just about a man and a woman—the Savior is a central third party. Their marriage is nailed to his cross.
Understanding the centrality of Christ's Crucifixion in the temple sealing can help a husband and wife stick together, even when things are difficult.
Although most Latter-day Saint families don't display a crucifix in their homes, many have a picture of the temple. Perhaps husbands or wives who have been sealed, when they see a picture of temple in their homes, can reflect on how Christ's Crucifixion is reflected in their temple sealing. They can then manifest the type of love for their spouse that Christ demonstrated for the Church through his sacrifice on Calvary (see Ephesians 5:25).
The sealing ceremony in the temple symbolizes Christ and His love. That love connects us with Him and together as families.
If you're interested in learning more about Christ's Crucifixion, visit my website, which has articles, podcasts, videos and other resources.