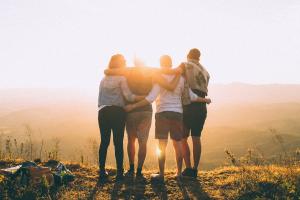 Zion in the Classroom
When I was a seminary student, my teacher would often use the word Zion to try and calm us down when we got too rowdy. I remember times when he'd stand at the front of the room, saying, "Zion, Zion, ZION!"
At the time, I wasn't clear on what he was doing. I'm sure he had spent some time teaching us the principles of Zion and inviting us to become a Zion people. But at the time, I equated ZION with being quiet or not overly rambunctious.
As a seminary teacher, I tried to foster principles of Zion by loving each student the best I could. One year I had a student who brought her friend to seminary with her several days a week. He was not of our faith, and his parents had forbidden him from attending released-time seminary. Without his parents' permission, I couldn't permit him to stay. I always felt heartbroken turning him away.
He'd go back to his classes, but would often return to the seminary building after school, asking me to teach him that day's lesson. Even though he couldn't officially attend, that student made himself a part of the small Zion in my classroom.
At the age of 18, he was baptized. He served a full-time mission, and then married his sweetheart in the temple. Together, they are now raising four beautiful children and helping to establish Zion.
Zion in the Home
In April 2021, President Russell M. Nelson shared a list of principles we all have learned from the COVID pandemic. He then invited us to "make your own list, consider it carefully, and share it with those you love." I'll share here some of the things I've learned. Especially the things I've learned about Zion.
Once I could get myself past the initial fear of it all, the pandemic became a powerful context for our young family to establish Zion. Sundays became my favorite days with home church. Our children (ages five and seven) took turns conducting our meeting, leading family discussions, and leading music. It was sacred and holy to receive the ordinance of the sacrament from my husband each week. Intimate in a way I had never quite experienced.
Our lives became quiet. Our family found refuge and respite within each other's arms and hearts. We have experienced a bit of Zion. It's been like heaven for me.
Zion in the Church
I confess that I have not longed to come back to church. In many ways, our family Zion was like the seminary Zion. Quiet. Unhurried.
But in October 2020, after seven months, we returned to church. And when we did, I recognized the void. I wept as my family entered the chapel that first Sunday. We had waited. Gone home and gathered ourselves. That Sunday, as the ordinance of the sacrament took a bit longer, I reflected. As we smiled at each other behind masks, I longed to connect with others in a way that I had not yet realized or at least had not allowed myself to feel previously.
It took returning to gathering (even with a fraction of the congregation at a time) for me to deeply feel the need to establish Zion beyond our home.
Like the Jaredites, we had pitched our tents on the shore, made the most of the less-than-ideal circumstances, and grown comfortable (see Ether 2:13). But. Also like the Jaredites, there comes a time when we need to launch into the sea toward a promised land.
Now I feel the yearning desire to do my part. Discipleship is best practiced in a community. It takes patient effort, coupled with the desire to build.
While I don't know exactly what President Nelson was referencing when he called the dedication of the Rome, Italy temple "a hinge point," I can see how my life has changed since the spring of 2019. Our worship services feel a bit more "normal" these days. But not the same. Maybe we are creating a new normal?
I'm grateful for the quiet COVID Zion. It stripped away so many things, but it connected me more directly with Christ. And now we are coming together again. We have the opportunity to build the community Zion. Count me in.