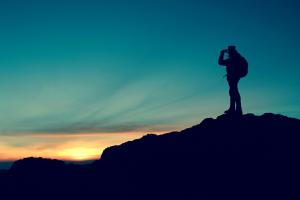 Many times in life, we seek success by looking forward and having a firm vision of where we want to be. But we also benefit from looking back on the progress we've made.
Looking Back on Football
I can remember when I was a brand-new walk-on for the BYU football team. I learned lots from my teammates and from the entire coaching staff, including legendary head coach Lavell Edwards. One of the most important things Coach Edwards taught me that first year was the importance of having a complete and unified focus on our next opponent.
Each week, we prepared to compete against a new team. And each week, signs were posted in the locker room and the halls of the athletic center with the name of that team to remind us. I remember seeing these signs posted even on the bathroom wall! The message was clear: stay focused on the challenges and successes ahead of us.
That same year, I also learned the importance of looking back. Even as we looked forward to our next challenge, we would also take time to look at game film and see our successes and failures. This was crucial in order to see not only where we could improve, but also how far we had come.
I have used these two principles—looking forward and looking back—in many different stages of my life. They have been especially important for me in terms of my relationship with my Savior, Jesus Christ.
While it is important for us not to not dwell in the past, it is very important for us to look back once in a while so that we can see our progress.
Looking Back on a Hike
This principle was illustrated to me perfectly on a recent trip with my wife and my son, Tyson. We were on a six- or seven-mile hike in the mountains of Peru. There were a few challenges that made this hike especially difficult for us. You see, we live in Florida at sea level, and this hike was at around 6500 feet above sea level.
If you've ever tried to do anything at a higher elevation than you're used to, then you understand the difficulty of breathing the thin air. On our hike, we planned to climb to around 8000 feet above sea level to the ancient ruins of Machu Picchu—much higher than Florida.
At the start of our hike, our focus was firmly on our destination. We were all so excited to arrive at Machu Picchu to see one of the Seven Wonders of the World, and to experience the beauty and uniqueness of the ruins. Unfortunately, we realized pretty quickly that the air was thin, the way was steep, and the path was narrow. We were going to struggle on our journey.
It wasn't long until I had a difficult time even thinking about the destination of Machu Picchu. My thoughts were on placing one foot in front of the other and trying to make it to the next resting spot. I kept having to remind myself to look around at all of the beauty that surrounded me.
At one point on the trail, my wife looked back and gasped. "Oh my goodness, look behind you!" she said.
We turned around to behold the beautiful view of the mountains in the distance. It was breathtaking, to say the least. It was at that moment that I realized how far we had come. Though we still had a long way to go to reach our destination, I realized that looking back really helped me understand the impact of each step I had taken.
Throughout our hike we would look back to see how far we had come. It became a source of inspiration and a lifting of our spirits when the hiking got tough.
Looking Back on the Savior
This "looking back" is easy for me to do with others. I can look at each one of my children and see how far they've come in life. Sometimes, however, it's a little more difficult for me to look back at myself and see my progress.
Many times I am too caught up in my day-to-day problems to get a comprehensive view of things. But if I deliberately take the time to reflect on my journey, I can gain more hope for the future, more gratitude for my experiences, and more faith in Christ and His ability to help me triumph over everything.
As we all move along the path of our lives, it's important that we focus on our spiritual destination and always keep it firmly in our minds and hearts. And it's also very important for us to look back once in a while to see how far we have come.
This can be an inspiration to us when we feel like all that we can do is concentrate on taking one more step.
I know that our Savior sees the progress that we have made. He can help us open our eyes to see how far we've come. Whether we feel like we are rapidly progressing through life, or like we are barely moving, He can inspire us to continue the journey with faith.
When we look back on our progress, we connect with Christ, because we realize all that He has carried us through.