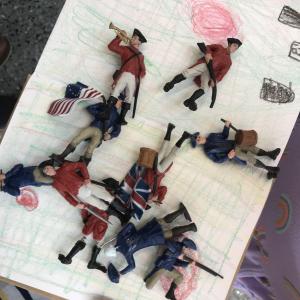 A Place and a Prayer
I love to travel. To see beautiful places, learn about interesting history, and meet new people. My husband and I are trying to introduce this passion to our young children.
This summer we had a chance to visit several states in the Midwestern and Eastern parts of the United States. It was wonderful to experience our country's history and be together as a family.
One of our stops was Massachusetts. We spent our first day in Boston exploring historical sites of the early United States: the ship called the USS Constitution, the home of Paul Revere, the site of Bunker Hill.
That morning, I prayed that I would be able to see Jesus in the people I encountered during the day. I was excited for our historical exploration, but I also wanted something more. I wanted to experience Christ as I aimed to slow myself down and really connect with my family.
An Adventure
Off we set on our adventure. We strapped on our best walking shoes. Navigated the train. Then, like Dorothy in Oz, followed the line etched in brick to identify important historical sites.
At our very first stop, our five-year-old son found his dream souvenir: tiny figurines of Patriots and Redcoats. They stood strong with their guns and their flags. Oh, how my son wanted those toys!
But I didn't want to buy them yet. I didn't want to carry them around all day. Surely we'd see the figures in another gift shop?
This set my son on a very focused mission: hunting for his reenactment figurines at every stop. Forget the sights. Forget the scenes. We marched on. To Paul Revere's house. Nope. The toys couldn't be found in the adjacent gift shop. Nor at the burial ground up the hill.
All this walking was beginning to be too much. It was hot. The kids were tired. Crossing the bridge to the USS Constitution and Bunker Hill nearly did them in. The kids' sirens sounded. The wailing began.
I can't go any further!

I want the toys!

Get us to the hotel swimming pool!
Finally. We stopped at a park near Bunker Hill, hoping to soothe my son's broken heart and weary feet. We rested there at that park while he cried about the toys he had left behind.
A Pair of Strangers
As I sat with my family, I noticed a man sitting nearby on a different bench. He smiled. I asked him for directions to a place to get a drink of water. He was kind as he gave directions—and he also gave us some much-needed encouragement.
We rallied to carry on. Daddy marched up the hill with my son as I followed behind with my daughter.
But it was all just too much. My son wept as he walked to Bunker Hill, pausing only for a tear-streaked, red-faced photo to try and remember the visit.
After our stop at Bunker Hill, we realized we needed to backtrack on our way to our next destination. And as we crossed back by our previous resting spot, a woman came running after me. She called out:
Are you OK? I can't believe my husband didn't offer you any water. Do you have food allergies? Come back. Sit. I'm a nurse.
Kathy. She was wife of the man who had helped us earlier, and she had arrived at her home across the street just after we'd left the area. Her husband had told her about the nice family with the sad boy, and she had immediately set out to find us.
She hurried across the street to her home, returning with refreshing water and ice cream cones.
Sit.

Drink.

What else do you need?
She took care of us all. We visited. Drank. Recovered. My son, infused with water and sugar, was refreshed. Bolstered by human kindness.
A Blessing
Off we went to admire the USS Constitution. Then we returned to our starting point—by riding the bus, not walking!—and finally purchased those precious toy soldiers.
The complaining had ended. The young boy was satisfied.
We happily marched back to the hotel, where we reenacted the Battle of Bunker Hill with the shiny new soldiers in their crisp blue and red uniforms.
As for the mother? I thanked God.
He had answered my prayer to see Him in the people around me. That day, through the kindness of strangers, I connected with Christ.