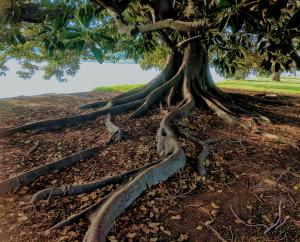 Have you ever had a trial that feels like it will never go away? Like, despite all the work you've done to remove it, it hasn't budged? These stubborn trials are frustrating and can make us want to give up trying to escape them. But the Savior taught a powerful truth about how these trials can end when we exercise the tiniest speck of faith.
A People of Miracles
We are a people of miracles. The scriptures are a repository of miracles. It may be safe to say that almost every day, we see or read stories of miraculous events.
Think of the accounts of angels, of people receiving their sight, of the Savior walking on water. From Jesus multiplying five loaves and two fishes and feeding a multitude, to Moses parting the Red Sea, to a farm boy named Joseph seeing God the Father and His son, Jesus Christ—evidence of the Lord's mercy and miracles abound.
At the center of these miracles is the verse of Matthew 17:20. Here the Savior offers the promise that "if ye have faith as a grain of mustard seed, ye shall say unto this mountain, Remove hence to yonder place; and it shall remove; and nothing shall be impossible unto you." It is faith in God that leads to miracles.
A Tree Like Our Trials
But the Savior didn't only use the mustard seed to teach about faith. In Luke 17, He mentions another plant in teaching this principle: "If ye had faith as a grain of mustard seed, ye might say unto this sycamine tree, Be thou plucked up by the root, and be thou planted in the sea; and it should obey you" (Luke 17:6, emphasis added).
Of all trees available, why did the Savior choose the sycamine tree for this teaching? The properties of the sycamine tree make it an apt comparison to our earthly trials. Consider these three properties:
The roots of the sycamine tree grow hundreds of feet into the ground, deeper than almost any other tree. The tree is unaffected by hot temperatures of the area, because its long roots tap into water sources deep underground. Much like our hardest trials, the sycamine tree is the hardest to uproot and move.
The sycamine tree symbolizes death, because its wood is used to build caskets. Much like spiritual death, the sycamine tree can only be moved by faith in Christ, Who overcame death.
The fruit of the sycamine tree is a bitter fig. These fruits grow after wasps sting the flowers to pollinate them. Much like our struggles to see past the stinging bitterness of our trials, the sycamine fruit is pungent and hard to eat.
The sycamine tree is a good analogy for our trials. Our trials may be hard to move from our lives. They may lead to spiritual death. They may be so big and bitter that facing them with faith feels impossible.
An Increase of Faith
But Christ will increase our ability to do the impossible, if we increase our faith. President Russell M. Nelson taught:
"Start today to increase your faith. Through your faith, Jesus Christ will increase your ability to move the mountains in your life, even though your personal challenges may loom as large as Mount Everest. Your mountains may be loneliness, doubt, illness, or other personal problems. Your mountains will vary, and yet the answer to each of your challenges is to increase your faith."
With even a tiny measure of faith, we can command the sycamine trees of bitterness, unpleasantness, and disappointment to leave. Some of those roots have gone down hundreds of feet into our hearts. They seem to survive and thrive in our lives, no matter what we've done to try to remove them. Sometimes our sycamine fruits of doubt and hurt and trouble make parts of our heart turn hard.
No matter how deep the roots of our troubles are or how hard parts of our heart may feel during a trial, we can exercise whatever faith we have. We can ask the Lord to help us remove our challenges—or ask for Him to give us strength to endure.
As we try to uproot our trials with the Lord's strength, He will help us. As we connect with Christ, He will soften us. He will remove the fruits of bitterness and replace them with fruits of faith.