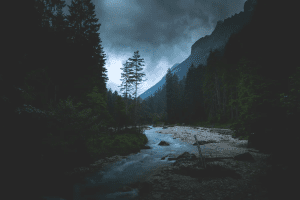 Years ago I was blessed with a particular sacred insight that I turn to repeatedly for its relevance in my life.
A Dark Night
 The surgery had not been serious; I would be going home in four or five days. But the night following it was disturbing. I had been blessed to have had very little experience with hospitals—with their periods of isolation, strange and uncomfortable beds, restrictive IVs strangely felt without pain, along with drugged dizziness, and immobility. Any kind of movement required being lifted and probably carried by a nurse.
The room was quite small, very dark, and there was no one else in it. I felt lost there—helpless, and alone.
Then the thought was brought to my mind: God knows where you are. I knew everything would be all right—and everything was.
Comfort and Answers
Later I was blessed to read with joy, in a book titled Daily Joy by Russell M. Nelson, "You will have moments of dismay. But you should remember that each of you is literally and truly a son or a daughter of almighty God" (p. 64). In the same book, he instructed: "Pour out your heart to your Heavenly Father. Turn to Him for answers and for comfort" (p. 247).
I remember Jesus arriving just in time to intercept a funeral procession to raise the only son of a widowed mother from the dead. He knew how devastating her life would be all alone in that culture; he also knew the moment the procession would pass. I remember his compassion for the man waiting by the pool of Bathesda. No one else cared that he was there, but the Savior did.
On two continents He healed untold numbers of sick and infirm individuals who were brought to Him. Each was important, and each was healed.
Loved and Found
In addressing general conference in April 2016, Dieter F. Uchtdorf shared one of  Christ's most memorable parables:
What man of you, having an hundred sheep, if he lose one of them, doth not leave the ninety and nine in the wilderness and go after that which is lost, until he find it. And when he hath found it, he layeth it on his shoulders rejoicing.
Dieter Uchtdorf continued, "The sheep is worthy of divine rescue simply because it is loved by the Good Shepherd."  Uchtdorf  assured his listeners, "He knows and loves you . . . . He knows when you are lost, and he knows where you are. He knows your grief, your silent pleadings. Your fears. Your tears."
He concluded "Because He loves you, He will find you."
"All Comfort"
Patricia T. Holland wrote in a book co-authored with her husband, Jeffrey R. Holland, of an experience while praying about a difficult problem:
I felt that I was led directly to the words of Paul. In a little known and seldom quoted line from 2 Corinthians, I read: "Blessed be God, even the Father of our Lord Jesus Christ, the Father of mercies, and the God of all comfort; who comforteth us in all our tribulation" (2  Corinthians 1:3).
I cannot express the power and peace I felt when I read that scripture. . . . That phrase "of all comfort" means to me not only that there is no greater source available for solace and strength, but that technically speaking there is no other source (italics in original).
Remember you can always connect to the "God of all comfort," who, with infinite love, knows where to find you, and with His perfect understanding will calm the tribulation you may feel.