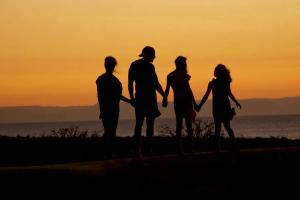 Sometimes I wish I knew more about who I was premortally. I wonder about my "first lessons," including how they prepared me for my current experiences.
 Glimpses and Reaffirmation
Sometimes I have glimpses—familiar moments of divinity when I'm worshiping in the temple, studying the scriptures and holding my soul still. My patriarchal blessing feels like a window to my premortal faithfulness. I'd like to think that this ultimate Father's blessing is reminding me of who I was.
I love the language President Gordon B. Hinckley used in this worldwide proclamation in 1995.
We of the First Presidency and the Council of the Twelve Apostles now issue a proclamation to the Church and to the world as a declaration and reaffirmation of standards, doctrines, and practices relative to the family which the prophets, seers, and revelators of this church have repeatedly stated throughout its history.
I also love his emphasis on the proclamation as a reaffirmation of earlier teachings, brought together in a new way.
I enjoy digging for origin sources, finding ways these truths have been taught before. These particular truths include the choice of Adam and Eve to leave the garden and undertake the mortal experience.
Sacred Realms
While studying the third paragraph of the proclamation, I find it helpful to emphasize the three realms of God's plan of salvation, which are its focus. I am especially conscious of what the proclamation teaches us about each realm.
In the premortal realm, spirit sons and daughters knew and worshiped God as their Eternal Father and accepted His plan by which His children could obtain a physical body and gain earthly experience to progress toward perfection and ultimately realize their divine destiny as heirs of eternal life. The divine plan of happiness enables family relationships to be perpetuated beyond the grave. Sacred ordinances and covenants available in holy temples make it possible for individuals to return to the presence of God and for families to be united eternally.
In my review, I summarize them as follows:
Premortally, as spirit sons and daughters we knew and worshiped God and accepted His plan.
Earthly experience is focused on obtaining a body, gaining varied experiences, progressing toward perfection, realizing our divine destiny as God's heirs, and entering into ordinances and covenants.
Ultimately we return to the presence of God to be united eternally as families. This is salvation and exaltation!
Eternal Perspective
The teachings in this paragraph are clear, pure, and concise, helping us to prioritize life choices in our pursuit of eternal perspectives. These principles also give us insight into who we were before: beloved spirit children of our Heavenly Parents, who knew and worshiped God. So we can think about what some of our priorities must have been then. Our faithfulness. Our preparation to accept, embrace, and live the plan.
What if we prioritized knowing and worshiping God now; accepting His plan; seeking to identify gaps in our understanding; and growing in our ability to live the doctrines of the plan? How would these priorities help us to honor our bodies, frame our experiences as progression toward perfection, and live our covenants?
I want to be in His presence again. I want to be with my family eternally. I feel myself connecting profoundly with Christ as I focus on knowing and worshiping the true and living God.
"This is eternal lives—to know the only wise and true God, and Jesus Christ, whom he hath sent. I am he. Receive ye, therefore, my law" (Doctrine and Covenants 132:24).