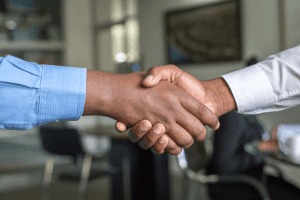 Before entering Gethsemane with His disciples, Christ offered a special prayer. There are many important aspects to this prayer; I want to highlight two of them—both about unity.
One as Believers
In the Good News Translation of John 17:20, the Savior pleaded, "I pray for those who believe in me. I pray that they may all be one. Father, may they be in us just as you are in me and I in you. May they be one just as you and I are one."
Jesus was praying for the oneness of all believers in Him. Not just Latter-day Saints, or Catholics, or Baptists, but all believers in Christ. When growing up, I sometimes felt a we­–they mentality amongst different Christian denominations. I realize now that Jesus was praying that all Christians be one in the way He and the Father are eternally one
Close in Beliefs
Leaders in the Church of Jesus Christ of Latter-day Saints have called for unity among different religious groups.
The enquiry is frequently made of me, "Wherein do you differ from others in your religious views?" In reality and essence we do not differ so far in our religious views. . . . Christians should cease wrangling and contention with each other and cultivate the principles of union and friendship in their midst; and they will do it before the Millennium can be ushered in, and Christ takes possession of his kingdom.
More recently, Elder Neil L. Andersen taught,
Some of our fellow Christians are, at times, uncertain about our beliefs and motives. Let us genuinely rejoice with them in our shared faith in Jesus Christ and in the New Testament scriptures we all love. In the days ahead, those who believe in Jesus Christ will need the friendship and support of one another.
In 2019, in a press conference after meeting with the Pope, President Nelson remarked,
The differences in doctrine [between the Church of Jesus Christ and the Catholic Church] are real and they're important, but they're not nearly as important as the things we have in common—our concern for human suffering, the importance of religious liberty for all of society, and the importance of building bridges of friendship instead of building walls of segregation.
One in Christ
Christ affirmed another sacred unity in this prayer: "Father, may they be in us just as you are in me and I am in you." He prayed that all believers might be in this joint unity with His Father and Himself: "May they be one just as you and I are one. I in them and you in me so that they may be completely one." Jesus was praying to be in us, that we can be completely one with him.
Paul also wrote of "Christ in you." On another occasion he affirmed, "It is no longer I who live, but it is Christ who lives in me." What might our lives be like if Christ lived in us, with this indivisible unity?
Similarly, as recorded in 3 Nephi 19, Jesus prayed, "Father, I pray unto thee for them that I may be in them as thou father art in me that we may be one." We pray hoping that God will answer our prayers. Here Jesus is binding us even closer to Him, praying that He will be in us. Might we, if through our agency we choose to invite Christ to be in us, in some small way be an answer to Christ's prayer?
May we seek this unity!