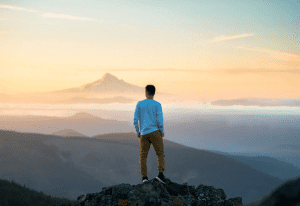 When Paul, emerging from his eventful voyage toward Rome, was met by some brethren, "he thanked God, and took courage" (Acts 28:15). When the Book of Mormon's converted adversary Zeezroom, low with a burning fever because of his sins,  learned that Alma and Amulek had survived and escaped his former compatriots, "his heart began to take courage" (Alma 15:4).
Scripture Courage
Humans seem blessed with courage for every challenge. We see it in the adventures and misadventures of Paul and in the soul-searching humility of Zeezroom, Scripture courage also takes us into battle.
Joshua needed courage as he was called by God to lead the Israelites into their new land after the passing of their great prophet, leader and lawgiver Moses. God gave him assurance and an admonition.
As I was with Moses, so I will be with thee: I will not fail thee, nor forsake thee. Be strong and of a good courage" (Joshua 1:6). God expanded this promise: "Be strong and of a good courage; be not afraid, neither be thou dismayed, for the Lord thy God is with thee whithersoever thou goest" (1:9).
Helaman had never seen courage so great as that of his stripling warriors. On a decision to enter a risky battle, they told him, "Our god is with us, and he will not suffer that we should fall; then let us go forth" (Alma 56:46). Their parents had demonstrated incredible courage and faith. They did not hesitate.
Current Courage
Today we gasp with horror at atrocities in the attacks on Ukraine, stunned by the raw courage of those who are facing ugly armed aggression with little training or experience. Citizens carry stretchers with tragic casualties—to hospitals that function and from hospitals in ashes.
On different kinds of battlefields, some teachers give their lives to take bullets for students as schools become scenes of horror. First responders get victims of emergencies to care, sometimes at risk to themselves. Many health care workers have to physically wrestle COVID patients into ventilators or other forms of treatment needed to save their lives.
Wherever there are humans, some forms of courage are required.
Gentle Courage
The root of the English word courage is cor or kerd, Latin for heart. As a derivation, courage once meant "to speak from one's heart," sometimes extended to include confidence or boldness. Courage originally conveyed more about compassion and personal expression than about brave deeds.
Such gentle courage is as worthy and as challenging as physical heroics. A grieving family cares courageously for a critically ill child. An individual with a disability courageously pushes the boundaries of what has seemed possible. Those who deeply loved the Savior courageously remained at the foot of the cross.
Speaking from the heart requires courage, as one must often become vulnerable in order to express heartfelt feelings that will help others. Depression has been referred to as a secondary pandemic to COVID. The uncertainty, fears, isolation, and economic distress, along with grief for loved ones, new and seemingly unbearable responsibilities, and disruption of education as well as family life have caused depression and exacerbated existing depression.
Experts have found that personal support—often just having someone to talk to—makes significant differences in easing and recovering from forms of depression. In The Four Loves, C.S. Lewis recommended as a beginning of friendship "What? You too? I thought I was the only one." You need courage to admit having a serious (or unpopular) problem, struggling with it, and sharing your hope and improvement. But those who take courage can make an incredible difference in other people's lives.