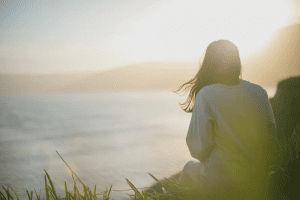 There is much to doubt or fear in today's world: including hopes that COVID is easing up and awareness that violence in nature as well as people seems to become worse daily. To save our hopes and our sanity, we must trust in Christ, who knows and cares about all peoples and the nature in which we live. He has told us, "Look to me in every thought; doubt not, fear not (D&C 6:36). Many have prayed in trust to Him and been richly blessed.
Trust in Every Thought
Dieter F. Uchtdorf (2015)  explained, "Our motives and thoughts ultimately influence our actions." He mentioned how Christ emphasized thoughts, and he quoted from proverbs, "For as he thinketh in his heart, so is he." Russell M. Nelson was more specific: "As you control your thoughts, you control your actions" (2020).
As King Benjamin gave his final address to his people, they all committed to take Christ's name and His covenant upon them. Benjamin stressed thoughts as well as action. "For how knoweth a man the master whom he has not served, and who is a stranger unto him, and is far from the thoughts and intents of his heart?" (Mosiah 5-13). Christ reveals His will in "thoughts, ideas, and instruction" (Nelson, 2020) as we trust in Him.
Trust to Avoid Doubt
Psalm 9:10 teaches, "And they that know thy name will put their trust in thee: for thou, Lord, hast not forsaken them that seek thee." Media today often seek to cause doubt rather than trust in our Savior. But President Nelson (2020) has taught,
When the Savior knows you truly want to reach up to Him—when he can feel that the greatest desire of your heart is to draw His power into your life—you will be led by the Holy Ghost to know exactly what you should do.
Some people may doubt when the Lord asks them to do something that seems difficult—perhaps impossible. One of our family's pioneer ancestors, Jane Johnston Black, had no medical training but knew instinctively how to help people with illnesses or injuries.
In her dictated autobiography, Jane explained, "Joseph Smith set me apart to deliver all expecting mothers and care for the sick and I fully did my duty." John Taylor, who was badly wounded as Joseph and Hyrum Smith were killed, sent for Jane before allowing a doctor to treat him. Jane crossed the plains with the pioneers, treating patients all the way and afterward in their new home. During her long life, she delivered over 3,000 babies.
In Lectures on Faith, Joseph Smith taught, "Doubt and faith do not exist in the same person at the same time." Jane Johnston Black had perfect trust in the Lord, and absolutely no doubt.
Trust to Avoid Fear
Those who have written about Jane Johnston Black reported that "she did not know fear." Jane understood what Jeffrey R. Holland has taught us, "Christianity is comforting, but it is often not comfortable" (2020). Sometimes we may wonder if a slow answer means no answer. Elder Holland explained that God hears and He will answer, but the answers may not come when and how we might desire. Prayers are "answered at the time and in the way an omniscient and eternally compassionate parent should answer them." Christ knows us perfectly, and He knows perfectly what we need when.
A survivor of the tragic suffering of stranded handcart pioneers recalled his great blessing.
 I have looked back many times to see who was pushing my cart, but my eyes saw no one. I knew then that the angels of God were there.
Was I sorry that I chose to come by handcart? No. Neither then nor any minute of my life since. The price we paid to become acquainted with God was a privilege to pay, and I am thankful that I was privileged to come in the Martin Handcart Company.
"Come, come, ye Saints, no toil nor labor fear," the pioneers sang. Many like this Martin Company survivor refused to be defeated by toil, labor or fear.
Another with trust to rise above fear was handcart survivor Christena McNeil, who came alone from Scotland. When she went with the mother of her travel family to attempt to buy food at a fort in Wyoming, a general at the fort sent the mother to another place for food, telling Christena and a young boy to stay. The general then proposed marriage to Christena, telling her there was no way the handcart company could survive; if she stayed with them she would soon freeze and starve to death. Christena told him firmly that she would take that chance rather than leave her religion and her group
Trust to Stay True
As Gordon B. Hinckley was leaving for his mission to England, his father gave him a goodbye hug and handed him a note with five words: "Be not afraid, only believe." This wise father knew how important having trust in God and overcoming fear would be to Gordon on his mission.
You don't have to be a pioneer or a future prophet to need carefully managed thoughts with the absence of doubts and fears. Elder Holland (2020) has reminded us that we must trust in the Savior in times of suffering and in times of joy.
In our thoughts and our actions, we express gratitude for the  "blessings in the challenges" as we, in humility, express thanks for His infinite caring and love (Bednar, 2020).