In a poetic masterpiece for children, Hello Earth (2021), Joyce Sidman assumes children's voices, asking the earth questions about its feelings and its relationship to them. Puzzling about earth's "bigness" and their own "smallness," the children say,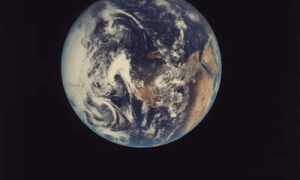 "We need to figure out/

the way/we fit together"

Earth itself does not answer questions, but earth's creator does. This blog considers things Hello Earth's children, as well as things we as earth's adults, benefit from knowing. Christ helps all of us understand how we fit—with our light in mortality, our gentle instructor, and our life in eternal perspective.
Our Light in Mortality
As Hello Earth helps us think in terms of who we are and where we fit, our light as followers of Christ brings us insight.
The Savior knew about challenges of mortal life, including questions that trouble us, disappointments that hurt us, and temptations and weaknesses that require "mortal strength and divine guidance." He provided the Holy Spirit as our light and our comforter (Rasband, 2017).
Dieter Uchtdorf (2003) mentioned  that comforter is from Latin—com fortis—meaning "together strong," and that the Holy Spirit joining our spirit brings strength, power, and peace.
Jeffrey R. Holland (1999) told college students that the Holy Spirit helps them with their confidence, through both mind and heart. With the Spirit, "God will teach us in a reasonable way and in a revelatory way."
Think about a student learning the newest technology, a novice mastering family history research, a teacher working out lessons for gospel students anywhere from preschool to adults who think they know all about most things. Our light from the Spirit affects everyday challenges.
Blessings of the Spirit do not change. In 1961, former First Presidency counselor Marion G. Romney explained, "You can make every decision in your life correctly if you can learn to follow the guidance of the Holy Spirit. This you can do if you will discipline yourself to yield your own feelings to the promptings of the Spirit."
Yielding feelings can be hard. Our ideas and feelings are part of learning, but consulting also our light from the Holy Spirit gives us the guarantee. "The natural man receiveth not the things of the Spirit" (1 Cor. 2:14). As the Savior has told us, the Holy Spirit will "enlighten your mind, which shall fill your soul with joy" (D&C 11:13).
Our Gentle Teacher
As the children speaking in Hello Earth conclude, we often must "figure out" what our needs and relationships are. As our light brings our lives into focus, the Holy Spirit is our gentle guide and teacher.
President Monson (1985) advised, "As we pursue the journey of life, [we must] learn the language of the spirit." In bringing our light and guidance, the Spirit's language is experienced in different ways.
Dallin H. Oaks (2020) wrote  to children that the Spirit would reach them with "thoughts and feelings in [their] minds and hearts," including love, comfort, peace, and guidance. He included warnings; we think of dangerous play spaces, uncontrolled fires, snakes on hiking trails (Stevenson, 2017), and a truck mishap forcing Joseph Sitati (2011) to climb up and down nine large anthills to get cell phone service.
Ronald Rasband (2017) also commonly experiences feelings: "You feel it in words that are familiar to you, that make sense to you." But when he hears a voice, it is "still and small." Henry B Eyring (2022) described the Holy Spirit as a "soft voice, steady and hopeful." He explained that the Spirit knows the storms we face and will lead us to the safe places we need.
Performing surgery, President Nelson sometimes saw a visual diagram of what he needed to do. He has explained that since he was often awakened during the night for medical emergencies, spiritual awakenings are often on a night schedule. And he has warned us (2009) that our light for a certain need may come over time: "line upon line, precept upon precept"—more given for those who will receive it.
Our Life in Eternity
Our light in the world is our light and our life in eternity. Gospel scholar Robert Millet (2021) has taught that with the Holy Spirit, Christ can "transform our minds," desires, and character. As we come to know the Savior, we try to be like him, and the Holy Spirit helps us to "gain the mind of Christ (see 1 Corinthians 2:16)." These blessing are eternal.
An airplane cannot fly without enough air pressure under its wings. Dieter Uchtdorf (2003), a former professional pilot, explained that this is the most important necessity for flying. Without it, there is no lift, no climb, no flight." He calls this "the wind beneath its wings" (2003).
Elder Uchtdorf compared this air pressure to the Holy Spirit, which places "in your hearts the firm conviction of the divinity of the Lord Jesus Christ and His place in the eternal plan of God your Eternal Father." This conviction is "an all-encompassing true source of power available to help you reach the purpose of your creation." This "subtle and loving influence . . . [is] lifting you and keeping you aloft."
The Holy Spirit enables you to "know your place in this plan and your eternal destination" (emphasis in original).
The children's voices close Hello Earth with "We will honor you." As adults and children who know the Holy Spirit, we add to this honor our gratitude and our love to earth's creator for His eternal blessings.