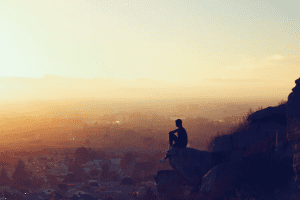 And suddenly there was with the angel a multitude of the heavenly host praising God, and saying,
"Glory to God in the highest, and on earth peace, good will toward men."
The most sublime Christmas greeting of all time startled and awed the shepherds tending their sheep in the fields. The Holy Child born this night was "the prince of peace," sent to earth to save all who were living, had lived, or would live on it. His kingdom was not of the earth; He and His disciples would not be bound to its values and practices. The gift would be for those who lived in peace with one another, who examined their hearts and minds to find peace within themselves, and who sought the eternal peace of this Savior, who would suffer for them in ways they could not imagine.
"Peace on earth" did not mean that the whole earth would be at peace. The land of the Savior's birth was not a peaceful place. The comfortable scene of peace-loving shepherds gazing protectively over sheep was not typical.
Comfort in Relationships
All territory was ruled by Roman power and governed by greedy, power-hungry kings. One king, Herod, slaughtered all very young children; he beheaded John the Baptist to satisfy carousing friends. Religious leaders battled for power and domination. Those who wanted something different had to sneak around late at night.
People felt the gift of peace in their love for and relationships with each other. Multitudes brought loved ones who were sick, injured, or disabled to ask for healing. Remember the four who couldn't find space for the bed of their paralyzed friend, so they carved through a roof and lowered him down.
People were quick to share the gift of His teachings. As He chose His apostles, worthy people who recognized truth were urged by brothers and friends to come and experience what was causing such wonder and joy. And they did.
Despite prejudice between Samaritans and Jews, when Christ taught a  Samaritan woman by the well, her friends and neighbors trusted her story, and many came and returned for several days.
Even adversaries seemed to be moved by the Parable of the Good Samarian. The gift from the Savior to His people includes capacity to love others; a gift His people can give the Savior is to love others freely and unselfishly.
 Peace Within Themselves
Many of us are so overwhelmed with the cares of the world and its peoples that we forget that Christ also wants us to give the gift of peace to ourselves. How can others trust us to tell them about the Savor's peace if they do not see and sense it in our own lives?
Dieter F. Uchtdorf has recommended setting aside time daily for praying, studying scriptures, and using a variety of gospel resources to better understand ourselves and renew our strength. This prepares us to meet our challenges and strengthen others.
When darkness creeps into our lives, as it often does, our daily restoration opens our hearts to heavenly light, which illuminates our souls, chasing away shadows, fears, and doubts.1
The angels who sang in Bethlehem were not promising the gift of peace to King Herod or to the scribes and Pharisees. As Christ told His apostles in their final hours with them, "Peace I leave with you, my peace I give unto you: not as the world giveth, give I unto you. Let not your heart be troubled, neither let it be afraid" (John 14:27).
I've wondered if a few of the apostles might have wondered about the gift of peace as the night turned violent and ugly. Satan prompted wicked abuse as the atonement continued. But the Savior was calm and in control during agony that no one else could survive. An exemplar as well as a giver of peace.
Redemption From the Savior
The gift of peace that includes and brings meaning to all the rest is directly from the Savior. Jeffrey R. Holland taught,
When the love of God sets the tone for our own lives, for our relationships to each other and ultimately our feeling for all humankind, then old distinctions, limiting labels, and artificial divisions begin to pass away, and peace increases.2
Although true peace is the gift of the Savior, it rarely comes easily. He does not subject us to what Elder Holland has called "the siren's song of convenience," explaining that "salvation comes only through discipline and sacrifice."
He also taught, "There is purpose in the time it takes. Cherish your spiritual burdens because God will converse with you through them and will use you to do his work if you carry them well."3
Remember that the Savior was "a man of sorrows, and acquainted with grief" (Isaiah 53:3). He knows that we suffer and how it feels. Henry B. Eyring assured us, "Yet our Father in Heaven is concerned not just about our comfort but even more about our upward progress."
The Savior shares His own comforter. Elder Eyring added, "The [Holy Ghost] will speak peace to your soul. He will urge you forward in faith. And He will bring back the memory of those times when you felt the light and the love of Jesus Christ."4  He added that the Holy Ghost leads us to do good and helps us find ways to help others.
The Savior shares the gift of heavenly peace when we reach upward to trust Him and accept it.