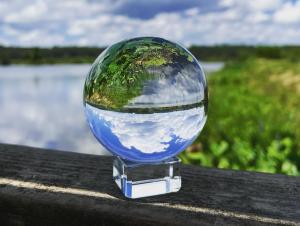 "The game is to have them all running around with fire extinguishers whenever there's a flood; and all crowding to that side of the boat which is already nearly gone under." In his ironic Christian fantasy The Screwtape Letters, C.S. Lewis put this advice in a letter from Screwtape, a senior-level devil, advising his nephew Wormwood on getting  his human "patient" into hell. With dramatic irony, readers know more than the characters and can see more deeply and understand on a deeper level.1 While these desperately dumb devils struggle to fool their "patient," we readers learn more from their short visions about the depth and extent of our Savior's pure and perfect love.
Our Need to Feel
C.S. Lewis explained his goal as a writer: "to tell the truth as [I] see it."2   Screwtape's short visions didn't satisfy: "Though I had never written anything more easily, I never wrote with less enjoyment."3
Let's look at both sides.
Devils
Screwtape advised,
Humans are amphibians— half spirit and half animal … As spirits they belong to the eternal world, but as animals they inhabit time . . . While their spirit can be directed to an eternal object, their bodies, passions, and imaginations are in continual change.
Tempters can redirect humans' "half animal."  A family in Florida who displayed an elaborate illuminated front-yard crèche was directed to add Frosty the Snowman looking over Mary's shoulder.
Apprentice devils enjoy steering their human "patients" toward judging exemplary people by physical appearance, or stereotyping infinite varieties (e.g., by nationality, race, socio-economic level, disabilities).
Christians
Christians value their spiritual nature. But Lewis recalled "a certain inhibition which had paralyzed much of my own religion in childhood . . . Why did one find it so hard to feel as one was told one ought to feel about God or about the sufferings of Christ?"
He concluded,  " I thought the chief reason was that one was told one ought to. An obligation to feel can freeze feelings."4
The Savior understands the needs and values the feelings of each of His children—short visions not included.
Yea, come unto Christ, and be perfected in him . . .  and love God with all your might, mind and strength, then is his grace sufficient for you, that by his grace ye may be perfect in Christ. (Moroni 10:32)
Our Relation to the World 
Devils
Screwtape advised his apprentice Wormwood to attack by "not what we plant in their minds, but what we keep out," creating short visions of the world.
Once you have made the World an end, and faith a means . . .  it makes very little difference what kind of worldly end [the patient] is pursuing. Provided that meetings, pamphlets, policies, movements, causes, and crusades,matter more to him than prayers and sacraments and charity, he is ours.
Lewis, writing as Lewis, suggested, "I sometimes think that [speaking] is like driving sheep down a road.  If there is any gate open to the left or the right, they will most certainly go into it."5 
Are we sheep drifting in fanciful short visions? Extravagant clothing, showy homes and cars perhaps?
Christians
Short visions can lengthen and strengthen.
Wherefore, ye must press forward with a steadfastness in Christ, having a perfect brightness of hope, and a love of God and of all men.   Wherefore if ye shall press forward, feasting upon the word of Christ and endure to the end, behold, thus saith the Father; Ye shall have eternal life. (2 Nephi 31:20)
 Eternal perspective is eternal progression.
His Desire to Give and to Fill
Through his opposition, Screwtape reveals Christ's view of us and hopes for us.
He really does want to fill the universe with . . . creatures whose life, on its miniature scale, will be qualitatively like His own, not because He has absorbed them but because their wills freely conform to His. We want cattle who can finally become food; He wants servants who can finally become sons. We want to suck in, He wants to give out. We are empty and would be filled; He is full and flows over.
And His charity,
His long-term policy [is] to restore to them a new kind of self-love—a charity and gratitude for all selves, including their own; when they have really learned to love their neighbors as themselves, they will be allowed to love themselves as their neighbors . . . He really loves the hairless bypeds He has created.
Scriptures and devoted Church members extend our knowledge and feelings.
Religious scholar Robert Millet projected that asking 1,000 Christians to select the "attribute that most characterized the ministry of Jesus of Nazareth . . . an overwhelming majority . . . would list Christ's love for people."
Millet also mentioned that Christ desired His disciples to
 Pray . . . with all energy of heart to have bestowed upon them the gift of charity, the pure love of Christ . . . A higher righteousness, a call to a higher and Holier form of love, one that cannot be generated by human beings but must be bestowed as a blessing and endowment from Heaven.6
As we pray for blessings, do we include His gift of charity?
Apostle Jeffrey Holland explained two ways to interpret charity. One is the "merciful, forgiving love" of Christ's disciples for one another—"love as the Savior loved, showing pure redeeming compassion for all—though few reach "total success."
The ultimate in Christ's pure love is "what Christ totally succeeded in demonstrating toward us. True charity has been known only once . . .  perfectly and purely in Christ's unfailing, ultimate and atoning love for us . . . With that divine gift . . . we have everything; without it we have nothing and ultimately are nothing. 7
No one can fake or manipulate such love.  It is the gift to those who love and follow our Savior.