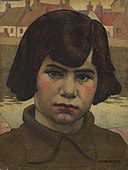 Everywhere I look, I see chaos in places and in faces. Tornados, blizzards, earthquakes, flooding. Road rage on street corners, shootings in grocery stores, gunfire in schools—angry teenagers or disturbed six-year-olds. Prejudice and anger in education as well as politics. Words and images telling us what we should buy, and social media telling us what we should be. Can we live with  it—or in spite of it?  Personal coping is as individual as personal chaos, but we must remember that God has plenty of experience with His children's chaos, and He will, in His own time and His own way, help us to deal with it.
Living with Chaos 
We may wake up with chaos in newscasts—on our phones or on radio or television. I would like to ignore the daily news because I'm afraid of the dreadful things I'm likely to learn. But I'm even more afraid of dreadful things I might not yet have worried about.
 If deadly tornadoes are heading for my area, I need to know in time to take shelter in my basement junk room.
Another daily chaos is the "calendar." These torture devices list everything we think we should be doing—in small prearranged spaces. Coding with colored ink helps me deal with one category at a time, clearing a few traffic jams—sometimes.
Laughing at chaos in laughable forms may help us become resiliant. But much of our chaos is serious and significant.
Looking and Listening Through Chaos
When Jesus walked upon water during a tempest, He assured the disciples, "Be of good cheer; It is I; be not afraid" (Matthew 14:27). Despite chaos in nature, when the disciples saw and heard the Savior, they knew He was there for them.
He is there for us, but the answer may come more slowly. A tempest is an emergency. But our need to see a way out of our own foggy chaos may require time for us to work at it and learn from it.
Kim B. Clark, of the Seventy, explained that Christ's apostles "struggled with worldly distractions, with confusion about what He taught, and even with fear." Elder Clark quoted the Savior's words to them: "Blessed are your eyes, for they see: and your ears, for they hear" (Matthew 13:16).
Elder Clark explained,
Although the times they lived in were dangerous and confusing, [the disciples] received the spiritual gift of eyes to see and ears to hear. By the power of the Holy Ghost, they began to see the truth of things as they really are, especially of the Lord Jesus Christ and His work among them. The Holy Ghost enlightened their understanding, and they heard the voice of the Lord more clearly.
He concluded, "We need greater spiritual light and power. We need eyes to see more clearly the Savior working in our lives and ears to hear His voice more deeply in our hearts."1
 As we pray, we need to think  specifically about what we see and hear and to study the scriptures and the prophets, as well as visit beautiful places and spend time with the inspirational people.
 Neil L. Andersen told BYU students: "As your faith in Jesus Christ is firm, the tests of mortality will shape your eternal destiny."2 Wait time can be shaping time.
Knowing and Believing
 Earlier, Elder Andersen had stressed sincere simplicity over extensive knowledge. Our chaos may be "difficulty finding our spiritual footing," and "at times, the Lord's answer will be, 'You don't know everything, but you know enough'—enough to keep the commandments and to do what is right.3
 Elder Soares also stressed direct simplicity for facing chaos in our world. He used the image "mists of darkness" from Nephi's vision of the tree of life(see 1 Nephi 12:17).
As missionaries,
When we bore a testimony with all our hearts, a silent confirming power coming from the Holy Ghost filled the room, and there was no space for confusion or discussion . . . no evil forces . . . are capable of confusing, deceiving, or subverting the power of a sincere testimony.
They found safety "in the teachings contained in the scriptures . . . in the wise words of our current prophets . . . and in the power of the Atonement of Jesus Christ." 4
In our hopes for safety in chaos, we desperately need the Savior's overall comforting words: "Be still, and know that I am God" (Psalm 46:10).
(Image Davidson/ Wikimedia. National Galleries of Scotland)