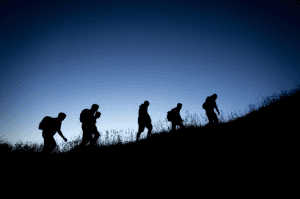 A "gravity friendly" grand piano, which stood in a chapel, needed to be moved to the cultural hall. Arranging and rearranging themselves, the brethren just couldn't get it balanced. As Elder Dieter F. Uchdorf reported,
As they stood around the piano, uncertain of what to do next [a practical brother] spoke up. He said, "Brethren, stand close together and lift where you stand" . . . [E]ach lifted where he stood, and the piano rose from the ground and moved into the cultural hall as if on its own power.1  
United in love for each other with a worthy goal, ordinary people can accomplish extraordinary things—in service and in spirituality.
A Legacy of Lifting
Several years ago, while I was serving in a church calling, my priesthood leader would frequently remind those of us who served together that we would not always serve in these callings, but that the callings would continue after we were released.
Our job was to be good and wise stewards, to serve well, and to make it easy for the next individuals who would have these callings to carry on. We as individuals who worked together and those who succeeded us were to stand close together and lift where we stood.
I like to imagine the covenant path winding through green fields, desert places, and deep woods, as well as up and down mountains. Each of us has at each specific time in our lives a section of the path to care for in love for those who will follow.
I try to learn what spiritual work I can be doing to help make the path smoother for those who travel my way. Regardless of our calling or opportunity for service, we are engaged in doing the important work of maintaining and strengthening the covenant path. Service that I do in love and in the spirit of obedience and sacrifice strengthens me in navigating the covenant path.
The Opportunity of Elias
When we prepare the section of path included in our calling, we serve as a forerunner for the next person who will cross this area. The bible calls this an Elias.
The Bible Dictionary tells us of two roles and two individuals. An Elias may be sent to prepare, as  John the Baptist "initiated the savior of the world along his own covenant path through the ordinance of baptism."
Elias is a title also given to one whose mission is to restore. For those of his day, Jesus brought back both the gospel and its accompanying Melchizedek Priesthood (see Joseph Smith Translation, John 1:20–28 [Bible appendix]).2
A beloved hymn, "How Great the Wisdom and the Love," with lyrics by Eliza R. Snow, reminds us of how our Savior prepared that path in love and leads us forward toward its glorious promise.
 How great the wisdom and the love/That filled the courts on  high                                                                                                                      And sent the Savior from above/To suffer, bleed, and die!
He marked the path and led the way,/And ev'ry point defines                                                                                 To light and life and endless day/Where God's full presence shines.3   
Paths to Welcome Him in Love
 Entering the covenant path by baptism invites us to engage with and assume our personal role in a covenant community. At this gate we choose to enter and take the hand of Jesus as we seek to bear burdens for, mourn with, and comfort others as we stand as witnesses of Christ. Always. In all things. (See Mosiah 18:8-10.)
Thus we engage in love as we do the work of salvation and exaltation
I appreciate opportunities to serve personally in love preparing others for Christ's second coming. Our role in ministering to others according to their individual needs extends covenant living for all of us4 .
Ministering in love shows our commitment to emulate Christ—a poignant and beautiful reminder of the opportunity to prepare the way for the Lord in their lives.
President Eyring has assured us, "The Lord Jehovah will return to live with those who have become His people and will find them united, of one heart, unified with Him and with our Heavenly Father."5  
 Each of us has a unique role and contribution, chosen by God, for preparing the paths for this glorious day.
(Photo by Mryzk/Unsplash)