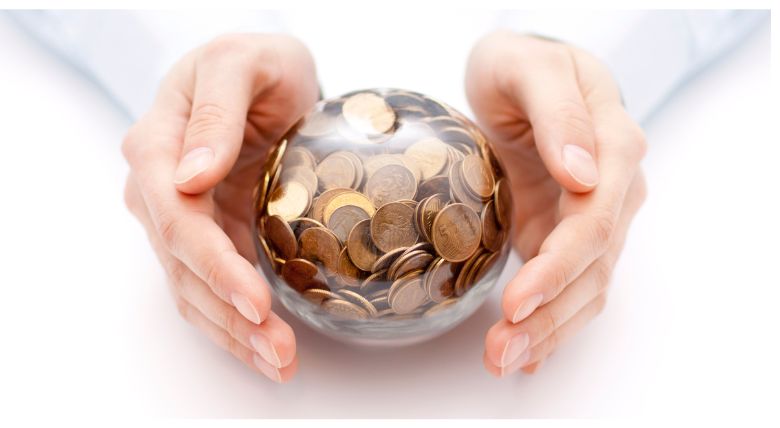 I heard it again today. "Why should spiritual leaders charge for what they do? It's not ethical. Spiritual teachings should be free, right?" It's a comment I'm quick to answer.
Is it ethical to charge for spiritual courses and services? In my opinion, yes — not only is it ethical, but it's also necessary in order to create a sustainable spiritual future for our society.
Profits, when used ethically, can be a blessing for everyone. When financially healthy, a spiritual teacher or pastoral care provider can spread spiritual messages further, touching more lives. But when profits are mishandled and appear to simply make the spiritual provider wealthy, they can also dent the reputation of everyone in a spiritually-based profession. (We've all seen social media posts about spiritual leaders living extravagant lives while failing to support people in dire need.)
And while everyone, no matter their profession, would be wise to reflect on how they spend their money, those in the spiritual domain, often referred to as soulpreneurs or spiritual entrepreneurs, are scrutinized and often held to a higher standard than people in other career fields.
Why should spiritual entrepreneurs receive compensation? Here's a breakdown:
Investment in Training and Development:
Spiritual entrepreneurship often requires years of study, practice, and personal development. Teachers, healers, and pastoral care providers often undergo rigorous training to hone their skills. Just like a doctor invests in medical school or a lawyer in law school, these practitioners invest in their spiritual education and development. They deserve to be compensated for this dedication, just like any other trained professional service provider.
Providing Tangible and Intangible Value:
Whether it's guidance, healing, insight, or connection, spiritual practitioners offer services that have both tangible and intangible benefits. Just as we pay for therapeutic or counseling services, spiritual services cater to the mental, emotional, and spiritual well-being of individuals. Most of us have no objection to paying therapists and should have no objection to paying spiritual practitioners.
Overhead Costs:
Spiritual entrepreneurs, like any other business, have costs. From renting spaces for workshops, to purchasing tools or materials, to the upkeep of websites and marketing, the fees charged help cover these costs, ensuring they can continue offering their services.
Financial Sustainability Equals Extended Reach:
Being financially sustainable allows spiritual entrepreneurs to continue their work, reach more people, and even develop new ways to serve (like writing a book or creating an online course). It also helps them keep their offerings updated and relevant, further benefiting those they serve.
The Energy Exchange Principle:
Many spiritual traditions believe in the concept of an energy exchange. When individuals pay for spiritual services, they're not just paying for the service itself but valuing the energy the practitioner is providing. This exchange helps create a balanced dynamic and demonstrates a commitment from both parties.
Enables Accessibility:
When fairly compensated, spiritual entrepreneurs can offer sliding scales, scholarships, or free resources for those who can't afford full prices. This ensures that their services remain accessible to individuals from all walks of life.
Setting Boundaries and Ensuring Quality:
Free services can sometimes be undervalued or taken for granted. By setting a monetary value on their offerings, spiritual entrepreneurs establish boundaries and standards, ensuring the quality services they provide are met with respect and the time commitments made by clients are kept.
Supporting Wider Communities and Causes:
Many spiritual entrepreneurs are also philanthropists. Profits can be channeled back into communities, causes, and organizations that resonate with their spiritual mission, amplifying positive impacts on a global scale.
Highly Profitable Spiritual Entrepreneurs Who Engage in Philanthropic Activities:
Deepak Chopra: An acclaimed author and public speaker, Chopra has utilized his wealth and influence to initiate and support various social causes. The Chopra Foundation, for instance, is a non-profit that seeks to "improve health and well-being, cultivate spiritual knowledge, expand consciousness, and promote world peace to all members of the human family." Through this foundation, Chopra has funded research on mind-body practices, supported educational programs, and launched well-being programs in underserved communities.
Oprah Winfrey: A media mogul with strong spiritual inclinations, Oprah has introduced countless individuals to spiritual and self-help concepts. Through the Oprah Winfrey Leadership Academy for Girls in South Africa and other initiatives under The Oprah Winfrey Charitable Foundation, she has offered education to disadvantaged girls, granting them a chance at a brighter future.
Thich Nhat Hanh: This Vietnamese Zen Master has influenced many with his teachings on mindfulness and peace. The Plum Village Community, founded by him, is not only a spiritual retreat but also engages in social outreach. They've been involved in various peace and relief efforts, including aiding Vietnamese boat people and sponsoring programs to bring mindfulness to schools.
Sri Sri Ravi Shankar: The founder of the Art of Living Foundation, Sri Sri has used his platform to promote peace and holistic well-being. The foundation runs numerous programs globally that focus on stress-relief, trauma care, and empowerment. They've also been active in conflict resolution, disaster relief, and environmental sustainability.
Dalai Lama: As the spiritual leader of Tibetan Buddhism, the Dalai Lama is a global icon of peace and compassion. Through the Dalai Lama Trust and various other charitable initiatives, he has funded education projects, provided healthcare to underserved communities, supported the preservation of Tibetan culture, and advocated for world peace.
Iyanla Vanzant: An inspirational speaker, spiritual teacher, author, and television personality, Iyanla has dedicated her life to facilitating personal growth and healing. She's been involved in various charitable efforts, including her foundation, Inner Visions Institute for Spiritual Development, which offers training and support for personal and spiritual growth.
Joan Halifax: An anthropologist, ecologist, and Zen Buddhist Roshi, Joan Halifax is the founder of the Upaya Zen Center. Through Upaya's Nomads Clinic, she and her team have been offering medical and humanitarian aid in the most remote areas of Nepal's Himalayas for many years.
Matthew Fox: A former Catholic priest and now an Episcopal priest, Matthew Fox has been a vocal proponent of creation spirituality. He founded the University of Creation Spirituality in California and has been involved in numerous ecological and social justice initiatives.
Radhanath Swami: An influential spiritual leader in the Bhakti tradition, Radhanath Swami is one of the driving forces behind Mumbai's Govardhan Eco Village, an eco-friendly community dedicated to sustainable living and holistic well-being. He also inspires numerous social initiatives like Midday Meal, which feeds more than 250,000 children daily in Mumbai, and Bhaktivedanta Hospital, which offers healthcare services combining modern medicine with holistic therapies.
These spiritual leaders showcase the potent intersection of spiritual teaching, profit, and social responsibility, underscoring the idea that compensation for spiritual service often leads beyond the one-to-one relationship and provides tangible action to alleviate suffering and promote well-being in the world.
As spirituality meets entrepreneurship, it's crucial to remember the ethical considerations of profit and what can be accomplished with it. When spiritual entrepreneurs use their gains not only for personal sustenance, but also to further uplift humanity, foster personal growth, and spread positivity, they turn the currency of their soul work into a force for global good.