Journeying Through a New York Christmas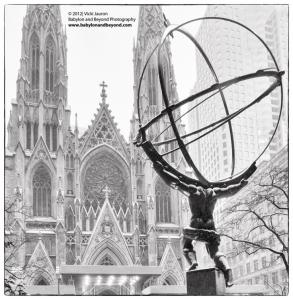 Walk out of Penn Station to find a Christmas Chaos Land. The city, crammed with tourists and regulars, Salvation Army representatives dancing to house-remixes of popular Adele songs, appealing to the altruistic sensibilities of the passersby, families with children speaking foreign tongues, blocking me from speeding along the sidewalk, if only they could do as the Romans and make my day a little easier…
Weaving in and out of foot traffic up 5th Ave, Mariah Carey blasts out of stores bedecked with garland and lights. The emptiness of the festivities pervades the entire avenue. Dropping hundreds of dollars on gifts, decorating to the nines, singing cheerful tunes, hours spent slaving away in the kitchen….for what?
I look at the faces of my fellow pedestrians, a scintilla of hope remains in each of their hearts, but what will bring that hope to fruition? I continue my journey, seeking a light to enflame the bits of hope that remain in me. My feet are tired, my arms shivering, anxiety looms over me like a cloud that blocks out the rays of the sun-the pile of work that awaits me after my vacation ends, my demanding heart making it impossible for love to be an easy, picture-perfect adornment to my life, for my work to be accomplished with effortless ease…always needing more, always falling short. And what is it all for?
And yet I continue trekking up the avenue, the burning desire to see the rays of the sun penetrating through the clouds as my guide. I arrive at my destination, tourists galore. Coming to see a beauty that transcends the other skyscrapers and retail stores that align that iconic avenue-they are taken by the presence of something different, something "other", where the possibility of an encounter with a radiant light that can break through the clouds of vanity and despair becomes a promise.
I kneel down, and wait. My heart, crying out for someone to hear me, and to see me, to reach me, and to quench my thirst, and to cry out to me too. I receive his embrace, as our love is consummated, our union is completed, and I walk out with new eyes…
Seeing the avenue, receiving it, embracing it, with my new identity-the Beloved. I see the presence of this light, in the darkness, in my sadness, in the emptiness. I walk with a new anxiety, my heart made full, overflowing with a promise…there is something to discover here. Something for me, in each and every circumstance, because I am loved. And my lover is made flesh, and remains with us.