Whenever I broach the topic of death with my mother, she never fails to remind me that my funeral will take place in a Greek Orthodox Church. She never fully came around to accepting my conversion to Catholicism.
My friend John's funeral made me look at the tension between ecclesial bodies in a new light. John also found himself caught between the divide of the Christian East and West. Though he, like myself, chose to enter into full communion with the Roman Catholic Church, he never left behind his roots in the Armenian Apostolic Church.
In fact, his funeral spoke to the deep desire for unity–both amongst ecclesial communions and people in general–that his life as a whole witnessed. It's a rare occasion, to say the least, to see an Armenian Apostolic primate and priest in attendance at a funeral in the episcopal seat of the Catholic diocese of New York, at which the rite was concluded with both a traditional Armenian hymn and the Latin In Paradisum.
The haunting yet profoundly beautiful melody of the Armenian hymn brought me back to the time John invited me to attend a service at his family's Armenian parish in Washington Heights. It was then that I saw his desire for unity amongst people extended far beyond ecclesial divides. After the service, he introduced me to several of the elderly parishioners, whom he knew since his childhood. I was amazed by his sense of familiarity and warmth toward each of them, as well as his willingness to make me, a total newcomer, feel as if I was a part of the parish family.
As the funeral was closing, I couldn't help but think about how much John would have amounted to in life. With his Ivy League degrees, sharp mind, and generous heart, he was in a position to make a significant impact on the world. To some, his premature death made it seem like all his potential was wasted. But after reading his obituary, written by Fr. Roger Landry, I grew in my conviction that John's "potential" was not wasted, but instead increased through his death.
Fr. Landry referenced John's own words from his application to the Leonine Forum: "I am a great believer in the importance of creating and maintaining strong community. In this era of constant dislocation and instant communication, it is critical that individuals maintain communities of those who share their values, whether they are physically close or distant." John certainly would have gone on to foster this kind of community within whatever fields he worked and amongst the people he encountered. And yet, his drive was propelled forward, not by an egotistical sense of success or accomplishment, but instead by the ideal of God's love: "It is a prime moment for the Church to act as 'salt, light, and leaven' in emphasizing the transcendent meaning of human dignity across the world, in shining a light on those forgotten in a society that worships power and ability above all… But this can only be achieved by prayerful individuals, guided by the Holy Spirit, laboring each day in solidarity with one another." It was this transcendent ideal which made me so certain that his death did not render his aspirations null, but instead made them more tangibly real.
John's dedication to his faith in Christ, to the point of remaining in dialogue with Him until those last, painful moments of his battle with cancer, inspired me to look at myself in a new light. John's freedom, his willingness to take the love he received from God and run with it into his work and relationships with others, moved me to let go of my narrow, self-centered anxieties and lift my gaze toward That which my heart truly longs for. I want to be able to live each moment of my life with the same vibrancy of heart that John carried with him during the last moments of his. I feel his presence to be so real, his intercession so powerful, as I go on living in a world caught between the ideal of individual success and the inevitable consequence of isolation.
As I looked around, I couldn't help but be moved by the array of mourners, coming from a variety of church communities, ethnic backgrounds, educational institutions, and social circles… all united by their love for John. Although John won't be able to finish his degree at Columbia Law, obtain an influential position at a law firm, or establish institutions to contribute to the betterment of society–his goal of fostering a deeper sense of unity amongst people through prayer and mutual collaboration was already becoming a reality.
I watched as his family and the priests, both Armenian and Roman, walked off with his casket into the distance toward the exit of St. Patrick's, the silhouette of the Crucifix leading the way. As the Cathedral doors opened onto 5th Avenue, I could see the Crucifix juxtaposed against the imposing figure of Atlas, carrying the weight of the world on his shoulders, in front of Rockefeller Center. I couldn't help but think of the irony of this image.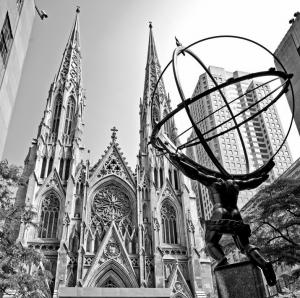 The Venerable Fulton Sheen was once quoted saying of the Atlas statue: "That is modern man! The world is too heavy for him and man is breaking under it, trying like a silly child to carry it alone, without any help or grace or faith from God." The Cathedral, on the other hand, represents "the Man Who carried the Cross [and Who] will get out from under it, for it leads to Resurrection and a crown in Life Eternal."
"This is the choice before us: either try to revolutionize the world and break under it or revolutionize ourselves and remake the world." John may no longer have the option of "revolutionizing the world," but his memory is a witness to the victory of the latter choice. For it is not in "uplifting" the world on our shoulders that we find true success, but in offering our lives to the One of lifted up His Cross for the sake of man's ultimate freedom and happiness.