Benito Antonio Martinez Ocasio, better known as Bad Bunny, took the risk once again of dropping an album spontaneously. Chucking the conventions of album promotion out the window (as he also does with the conventions of gender and genre lines), he boldly announced on February 14th that he would shut down his Twitter until the release of the new album.
It wasn't until two weeks after when Jimmy Fallon asked him directly that he revealed that his second solo album YHLQMDLG (Yo hago lo que me da la gana, I do whatever I want), would be released at midnight. Only the devotees of his "New Religion" would have guessed the February 29th release date when he sported a jersey with the number 29 on the back at the NBA All Stars game.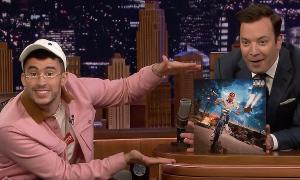 Though the unconventional promotional formula for YHLQMDLG was similar to that of his solo debut, X100PRE, the two albums diverge thematically. X100PRE's tracks oscillate between two poles. At one end, "everything is fine" ("Estamos Bien") now that he has reached an adequate level of success and fame, and has seemingly unlimited access to the pleasures of parties, sex, and money. When he's in this mode, he's unafraid to parade his care-free attitude and to tell his haters to go f*ck themselves.
The other pole, however, testifies to the short-lasting nature of the other. Once the party dies down, his high mellows out, and his heart longs for a love that continues beyond one night, he is faced with his own fragility. In songs like "Si Estuvieramos Juntos," he laments a failed relationship, wondering what it would be like if he were still with the girl he loved.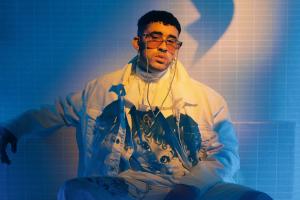 The two songs "Quien tu Eres?" and "RLNDT" are mirror opposites of each other. In the former, he flaunts his success, asking "who do think you are, that you can f*ck with me?…Everyone knows my name. Nobody knows who you are." On the latter, he admits how his newfound success has left him feeling like he's lost his identity. "Who am I?" he asks. "I don't know, I forgot." As much as he revels in his success and is unafraid to flash his bravado, he is equally transparent about his insecurity and is willing to make himself vulnerable to his listeners.
We see the bravado, the party life, and continuous pursuit of ephemeral pleasures reemerge in YHLQMDLG. The theme of heartbreak surfaces momentarily ("Si Veo a Tu Mama," "Pero Ya No"), but only for it to be drowned out with drinking, sex, and other attempts at forgetting his problems. Bad Bunny is doing "whatever he wants." As much as the attitude of doing whatever one wants and forgetting one's problems has appeal, it inevitably leads back to that same sensation of emptiness.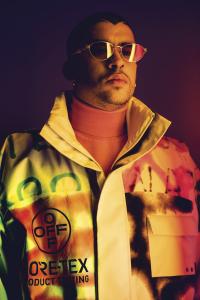 In X100PRE, it was precisely this vain attempt to escape reality that opened the door to such profoundly raw revelations and realizations. But now, he doesn't seem to have time to face his own limitations, questions, and desires…those pesky traits which made his solo debut so utterly human and relatable. His lack of meaning, certainty, and true love carved out a cavernous lack in his soul. YHLQMDLG doesn't explore this lack. Instead, it attempts to cover it with flimsy, generic-brand bandaids.
This "forget your problems" attitude is most excessive and unrealistic in the intro to the video for "Si Veo a Tu Mama." A young man stands in the middle of a lively New Years Eve party, seemingly oblivious to the festivities surrounding him. In front of him hangs a noose, to which the rest of the party-goers appear equally oblivious. As he prepares to hang himself, a little boy wearing a hat with bunny ears (who eerily appears in all of the album's videos) approaches him asking what's wrong.
"My family doesn't love me, my friends don't listen to me." "Me too," the kid replies. "You know what I do when I feel sad? I listen to Bad Bunny." The man proceeds to step down from the noose and joins the fun at the party. Whereas Bad Bunny allowed the nihilistic abyss that engulfed him after the ephemeral euphoria wore off to generate such raw and profound questions in X100PRE, he now provides a shallow, and grossly irresponsible, "solution" to the unfortunate phenemenon of suicide that many see as the only way out of their personal abyss.
As much as Bad Bunny spends most of his sophomore album covering over his own vulnerability, he seems to have transferred his reflectiveness to someone else, namely, to the women he finds himself attracted to. Several songs demonstrate his curiosity toward the existential state of the women he watches dancing at the club.
This began with the single he released last summer, "Callaita" (which doesn't appear on the album), about a "quiet" girl who we can assume used to be more innocent and introverted before someone "damaged her." As much as she may be quiet, she has a taste for partying and a "daring" sex life. Unlike many of his other songs in which he blatantly objectifies attractive women, he instead chooses to step back and ask, "who is she?" "How did she end up here like this?" "What happened to her?" And possibly even, "What is she looking for?" when she turns up at a party.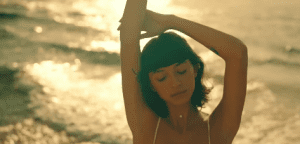 Bad Bunny continues in this vein in songs like "La Dificil," in which he wonders why she makes it difficult for men to approach her. In "La Santa," a woman with whom his relationship was merely sexual now wants to try to live a more meaningful relationship with him. "Yo Perreo Sola" is about a girl who "perreos" by herself, is skeptical of love, knows all the songs, and dances alone. In "Solia," the girl he's attracted to arrives at the club alone. She wants the guy who is interested in her to leave her alone. He plays a song for her, but she doesn't care, as she posts videos on her Instagram story.
Instead of expressing his own insecurities, he takes up observing the insecurities of women. As much as we are left wanting for him to bear his own soul, his acute observations of these women is striking. Though he doesn't diverge from the typical themes of sexual desire and objectification of women that are found in reggaeton, he takes it and turns it into an existential exploration. Yes she's hot, yes, he wants to sleep with her. And yet, his observations seem to hit on this note of sadness, this "human" element.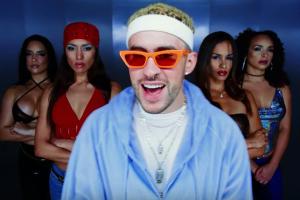 Will he follow this note and seek to understand the depths of this woman in her complexity as a human being, sharing his own vulnerability with hers? Or will he follow the more routine instinctive route, using the woman for pleasure, and taking advantage of her vulnerability?
Click here to read my series on Bad Bunny and Optimistic Nihilism in Pop Music: The New Religion (pt. 1), The Inconvenience of Complacency (pt. 2), Suicide, the Occult, and the Next Generation (pt. 3)