When teaching Christopher West's Fill These Hearts (a simplified analysis of the John Paul II's Theology of the Body) to my senior religion class, I try to  incorporate pop culture into our lessons. West begins each chapter in his book with lyrics from a pop song that speak to the chapter's themes. I took the liberty of making a more up-to-date playlist that incorporates a little more of a rhythmic sound. Here we go…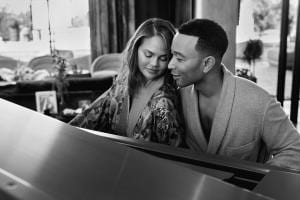 Concupiscence and the reduction of the Body from Sign to Object
TOB 40-41, 105-108
West mentions John Mayer's "Your Body is a Wonderland" as an example of the body of the other as a source of wonder that provokes us to seek the Origin of its beauty. JP2 speaks of the effects of original sin and concupiscence, which incline us to perceive the body as an object for self-gratification rather than a sign of the Creator. Big Sean's "Dance A$$" demonstrates what happens when the body and its parts are reduced to a tool for one's pleasure. Sean raps, "girl, you talk too much, shut up…if she look good she pay me in sex/bounce that ass its the roundest." Concupiscence blinds us to the personhood of which the body speaks. It silences the "language of the body," thus giving us license to use it for gratification.
Marriage: ultimate fulfillment or impetus to pursue the ultimate 
TOB 13-14, 85, 111
Much of pop culture, from Disney movies and Romcoms to pop love songs and bridal marketing ads, presents romantic love as the ultimate source of fulfillment in life. The TOB points out that as much as marriage is a sign of God's love, it is the latter and not the former which has the capacity to totally fulfill us. In Kelly Price's "You Complete Me," the beloved as "my destiny." "No one else could ever make me whole, you for me and only me for you…Baby please don't take your love from me, only you can make my life complete," she sings, naively trusting in her beloved's finite human strength.
Lady Gaga and Bradley Cooper's "Shallow" is an anomaly amongst other love songs. "I'm falling," he sings. But he recognizes that even his beloved's love-when it's good-is not enough for him: "In all the good times I find myself longin' for change." He acknowledges the same for her-his love is limited, ultimately unable to fill her "need for more." Thus romantic love is transformed when the lovers unite to search for that "something more," "crash[ing] through the surface," beyond the shallow.
Eros as dimension of the infinite desire for God
TOB 5-6, 96
Eros is one of the various ways that the infinite desire for God manifests in the earthly realm-it's a sign that points to the ultimate fulfillment we seek. This is why we often find ourselves plagued with romantic longing, as we perceive the extent to which our desire for the beloved is wrapped up in our infinite longing for God. Jazmine Sullivan emotive vocals in "Need U Bad" expresses her desperate yearning for an ex-lover, singing "boy I need you bad as my heartbeat, Bad like the food I eat, Bad as the air I breath, I need you bad I can't take this pain, Boy I'm 'bout to go insane." Similarly, Mary J. Blige's breakout hit "Real Love" portrays her search for the ideal lover in terms that mirror many mystics' search for God. "I've been searching for someone to satisfy my every need…be the real love that I need…someone to set my heart free, I'm searching for a real love." 
The desire for eros to reach eternity
TOB 85-86, 111
Spousal love is called to mirror the eternal love of God for the Church. Thus the desire for love to be totally committed and the fear of abandonment. The Shirelles' 1960s hit "Will You Still Love Me Tomorrow," remade by Amy Winehouse and later by bacahata artist Leslie Grace, speaks to this expectation for love to last past the temporary moment: "Tonight the light of love is in your eyes, but will you love me tomorrow? Is this a lasting treasure or just a moment's pleasure?…Tonight with words unspoken you say that I'm the only one, but will my heart be broken when the night meets the morning sun?"
Fragility of eros and human finitude
TOB 29-33
In Ozuna's "Una Flor," he explores the nature of eros by taking on the voice of a deceased lover addressing his beloved. He acknowledges both his strengths and weaknesses, admitting to have sinned "just like you," and to have carried his own cross. "I've seen a flower die," he sings, comparing the finite nature of eros to that of a flower, "of a distinct color, which I will never find again." Eros, in its beauty and pleasure, is but a mere sign of that greater love we all long for. Though it satisfies partially, it is unable to overcome human brokenness by itself or surpass the inevitability of death. "And if my soul flies up beyond, I only ask God to continue watching over you." He hints that true eros must be willing to look beyond the eyes of the beloved–willing to accept sacrifice, death, the finitude of our existence, and broaden its horizon toward the Infinite Itself–if it is to be transformed into agape and withstand the test of time.
Natti Natasha sings in "Quien Sabe" about regretting having been unfaithful to her lover. In the video, we find her in a church wearing a black dress and chapel veil, crying in front of a crucifix and asking for forgiveness, as she flashes back to scenes of her time with her ex-lover. After going to confession, she emerges in a white dress and veil, symbolizing her limited ability to love, and need for the grace of Christ's love and mercy in order to love purely.
On the other hand, this tension between the finite and the infinite clouds our experience of human love. This can give rise to the illusion that we ourselves are capable of loving "infinitely" by our own strength and without God's grace. Romeo Santos, in Aventura's "Inmortal," sings about his intention to love his partner infinitely and eternally, while other people look with doubt, not understanding the "mystery" of their love for each other. "I love you to infinity…They'll never understand what I feel. They doubt it, the experts look for a cure because I love you insanely. They don't trust that I'm human, girl…Come and give me a brain study because my behavior is not normal. And this heart, God made eternally. Know that this feeling is immortal."
The need for faithful, unconditional love
TOB 15, 87
For human love to mirror that of the Trinity, it must be willing to remain with the other "for better or worse," for the beloved's beautiful attributes as well as their wounds, flaws, and idiosyncrasies. This love mirrors that of Christ crucified, and is prepared to sacrifice for the other even when we feel like we aren't receiving anything in return.  John Legend sings in "All of Me" about learning to find beauty in his beloved's flaws ("Love your curves and all your edges, all your perfect imperfections"), asking for her to "give your all to me, I'll give my all to you."
J. Cole raps in "She's Mine Pt. 1" about being transparent with his wife and needing to know that she loves the fullness of who he is. "I wanna tell the truth to you. I wanna talk about my days as a youth to you, exposing you to all my demons and the reasons I'm this way." Learning to love the other for who they are now as well as who they were in the past takes time and is not immediate. "I would like to paint a picture, but it'll take more than a day. It would take more than some years to get all over all my fears, preventing me from letting you see all of me perfectly clear. The same wall that's stopping me from letting go and shedding tears from the lack of having father, and the passing of my peers. While I'm too scared to expose myself it turns out, you know me better than I know myself."
Similarly, Ariana Grande sings in "POV" of a lover who makes her want to "love me the way that you love me, for all of my pretty and all of my ugly too." Being loved in this kind of way, for more than her utility or convenience, touches her "soul from the outside, permeate my ego and my pride." 
In Usher and Romeo Santos' song "Promise," they sing about the need for fidelity and the fear of abandonment: "I want to be completely yours, but I'm afraid. Promise me that you'll never leave me without your love. I'll give you my all girl, but you gotta promise you'll hold me, love me, way past forever." 
Healing from past wounds and heartbreak
TOB 4, 49, 70
When healing from past relationships gone wrong, we can choose to ignore the intrinsic and often painful need for love or allow ourselves to feel it, and seek an experience of healing and redemption. Bad Bunny oscillates between both options. In "Amorfoda," he tries to expunge his heart of the need for love after his relationship went south. "I don't want anyone to talk to me about love anymore, I'm tired of it, I know all those tricks already, I already went through those pains." In the breakup anthem "Te Bote," he attempts to get rid of and get over the girl who broke his heart. "Go to hell. My body doesn't need you.  I hate all the 'I Love You's' that I texted a thousand times. Our love drove in a Bugatti and you stayed on foot, I threw you out."
In "Vuelve," he seems unable to repress his need for love and begs for his lover to return, despite his own faults in the relationship: "I am scared of dying and being born again and that you will not be there. I know I made a thousand mistakes. I don't know how much time I'll last, without you, and because of that come back."
Mature love as self-gift and fruitfulness
TOB 113-114
The sacrament of marriage is a sign of and effects the grace of trinitarian love. This is made most clear through the capacity to continually unite oneself to the beloved in self-gift, and through the openness to generating new life. In "Foldin Clothes," J. Cole speaks of the small graces found in the mundane and sometimes inconvenient chores that come with married life. "Woke up this morning feeling like the best version of me, so happy. I walked in the living room and saw you all alone on the couch, just napping. I see a lot on your plate, nine months with that weight. I know you tired so I wonder how I can help. I get the basket and grab your clothes out the dryer. I wanna fold clothes for you." In "She's Mine Pt. 2," he raps about the unmerited gift of being a father. "Am I worthy of this gift? Am I strong enough to lift into a place that I can see someone more important than me?" He relishes in getting to serve his daughter, from cleaning her diaper to drying her crying eyes, "needin' me, wantin' me, givin' me a chance to feel special." He thinks back to watching her be born, proclaiming that he "never felt so alive," and that he now knows "there is a God."