"With God, there's no one who can keep the phoenix from flying."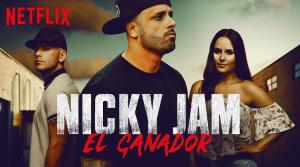 Puerto Rican Reggaeton artist Nicky Jam's popular biographical Netflix series centers on the symbol of the mythical bird who rises from the ashes. The show weaves together his life story from his tumultuous childhood in Massachusetts, to the beginning of his music career in Puerto Rico, to his struggle with substance abuse, and his eventual career comeback.
We first meet Nicky as he wakes up from sex with an anonymous girl before a concert in San Juan with Daddy Yankee. The duo, known as Los Cangris was signed in 1997 and went on to put out hits like "En la Cama" and "Guayando." After popping a few Percocet pills, he flashes back to his childhood in Lawrence, Massachusetts.
His parents, Isabel Caminero and Jose Rivera, fell in love with each other in Lawrence and decided to get married after finding out she was pregnant. They struggled to maintain a stable family life for Nicky and his younger sister Stephanie. Jose turned to drug dealing in order to provide for the family, and Isabel, who struggled with mental health issues, got involved in a prostitution ring. Unable to feign the illusion of normalcy anymore, Jose takes the kids to Puerto Rico.
Nicky reminisces about the happy moments with his mother, like when she took them out late at night for pancakes, only to be ruined when she lashed out at the waitress and then ran out to sleep with a client in a car. Percocet became his primary means to numb the pain.
He and Daddy Yankee part ways once the drug addiction begins to impede Nicky's ability to perform music. An addict, losing money, and severely overweight, he decides to start fresh and move to Medellin, Colombia. While he does find an audience for his music there and begins to record new songs, the perc addiction hangs over him like a dark cloud and continues to get in his way.
His father travels to Medellin to see Nicky after he is hospitalized from an overdose. After his release, Jose decided that he's going to help his son quit cold turkey. They check into a hotel together, telling the receptionist that he doesn't know if they'll be there for three days or three weeks, but to put all of the charges on Jose's card. Nicky tries to resist as they enter the room. Jose grabs him firmly, "I did it for you, now do this for me."
Nicky's withdrawal is full of physical and emotional agony. "It was one of the toughest moments in my life. I've never experienced so much pain." He flashes back to images of his mother, writhes on the floor, and bangs on the hotel room door pleading with his father to let him have a Percocet. His father waits outside the door patiently, encouraging him not to give up. He admits to his father to have been taking 30 Percocets a day, and doubts he will ever be able to get clean.
"Son, getting sober is like uprooting the devil." Nicky shivers in his bed, and Jose bundles him in a blanket and caresses him.
Nicky wakes up and continues begging him for at least one perc. "You're not a junkie, Nicky."
"Of course I am, can't you see?"
"You are not the same as your mother. You'd always had this tremendous light, even as a kid. When I met your mom, she already lost her light. If you let your light fade, all you'll be left with is that pain that she has."
Nicky attempts to leave the hotel to find drugs once Jose falls asleep. He's stopped by the receptionist, who warns him about giving up on getting clean, and tells him about her brother who is a junkie. "So you're a spy for my dad?"
"No, not a spy. I just imagined how he'll feel once he realizes you're gone."
After over a month of detoxing, they leave the hotel determined to stay clean. But Nicky soon realizes that in order to do so, he must start to face his wounds. He reaches out to his mother's sister in the Dominican Republic and arranges to meet with her after a concert in Santo Domingo. Upon being reunited, she expresses to him that she's tried on and off to get clean. "It's not easy."
"I know," he says. "I had to get clean, and almost died." She is brought to tears. He invites her to come back to Medellin with him.
"I can't. All I'll bring is trouble. You don't want me in your house."
"You know what, mom? All my problems began because I didn't have you in my life. We have to be together."
The scenes of Nicky helping Isabel detox directly mirror those of Jose helping him. As she cries, vomits, and doubts her ability to get clean, Nicky sits right outside the door just as his father did. "I'm here with you now, mom. Things are going to be different." Nicky tenderly strokes her hair in bed as she falls asleep.
Nicky tells his sister Stephanie about reuniting with their mother. "Be careful," she warns him. "You're dealing with mom." But he shows that his determination to heal his past wounds make it all well worth the risk.
"I have faith in her this time. I think the family will be better…at least that's what I'm praying for."
Nicky then gives Isabel a golden necklace as a gift.
"Son, you know I can't be trusted with money. You give me something this expensive and I'll end up selling it."
"You'll never have to sell anything again as long as I live."
Isabel struggles to stay clean from both drugs and prostitution, and has a hard time keeping her mental breakdowns under control. On the set of one of Nicky's music videos, she puts herself in the middle of an argument between him and the director, threatening him with a knife.
"I'll kill whoever I have to for you, Nicky."
"Listen mom. I've taken that word out of my life, and you should do the same. Give me the knife, mom." He carefully takes the knife from her hand and embraces her.
After one of Nicky's one night stands walks out of the house, Isabel confronts him, asking, "do you even remember her name?" She rubs his hand. "Listen, Nicky. All of this, for that? The money, the fame, for this? So you can get all the chicks?" He looks away in shame. "My son, you're always with some girl…and that can be a drug, too. I look at you and see myself. I want you to forgive me, son. I know this is all my fault. I've known that for a long time. But look at all this, what you've achieved. You didn't need me at all."
"Don't say that, mom. Not a second went by when I didn't think of you. I was always searching for you. One of the main reasons I became famous was so that you would hear me sing and come find me."
"I always followed you, always. Your music, your interviews. I always had my ear to the grounding listening out for you. But I didn't want you to see me. I was embarrassed."
"I want you with me always." In tears, he embraces his wounded mother who has come back to life, faintly echoing a reversed Pieta.
Nicky comes home the next night and Isabel is nowhere to be found. He searches frantically for her in the streets, only to come back into the house to find her in the kitchen holding a lit birthday cake for him.
"But mom, it's not even my birthday."
"I know, my son. But I wanted to make up for all the birthdays I missed."
Despite weaknesses in casting and writing, the show captures the humanity within drug addiction and the enduring desire for unity between parents and their children. The relationship between Nicky, Jose, and Isabel is a testament to the fact that even the most flawed of people can be redeemed, that healing is indeed possible when we don't allow our wounds to harden, and that there is hope that our fragile attempts to love others unconditionally can be realized.
"I love you God, you're the one who blesses me. You accompanied me through my dark nights," he raps in the title sequence. The show hints at the role that family members can play in opening us up to recognizing the love of a God who accompanies us through the darkest of nights, and who can even raise us up from a heap of ashes.