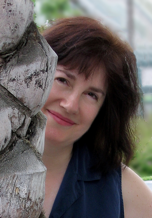 ABOUT THE BLOG: Welcome to my blog about and for creative atheists, freethinkers, and skeptics. I believe there are a lot of us, and it's my hope that this blog will help more of us extend our voices into the public sphere.
In Creative Atheist, I'll be interviewing atheist writers and artists of all kinds, reviewing their books and other work, and offering my readers advice and insights about the writing and publishing process. Your questions and topic suggestions are most welcomed.
YOUR COMMENTS: I love hearing from my readers. Just be civil, as it's no fun for me to delete comment threads that turn into name-calling.
ABOUT ME: Back when I was an independent journalist, I wrote thousands of articles, essays, columns, and reviews for regional and national publications, including Los Angeles Times, USA Today, Psychology Today, Los Angeles, and many others. Later I zeroed in on psychological topics, wrote a nonfiction book or two, and went on to earn a Ph.D.
My dissertation about how highly successful novelists and poets enter flow, a state of full engagement and productivity, became the Southern California bestseller Writing in Flow: Keys to Enhanced Creativity. Next came Loving in Flow: How the Happiest Couples Get & Stay That Way.
Kylie's Heel is my first novel (see Sidebar for link). It's about a rational woman who has to deal with tragedy. The atheist theme of Kylie's Heel has become very meaningful to me, and I'm now being more open about that in my work.
My web site: BunnyApe
My other blog: Creating in Flow (for Psychology Today)