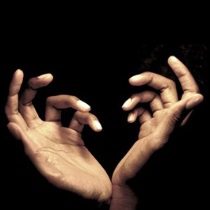 We had a good turnout, with about 100 people showing up. I'll share some observations that will give you a feel for how things went at the debate two days ago.
Christian opponent. The organizer of the event and my opponent was Rand Wagner, who has master's degrees in Exegetical Theology (Western Seminary) and Christian Apologetics (Biola).
Christian argument. Rand opened with three arguments:
1. Cosmological argument: specifically, God is the best explanation for the origin of the universe. Rand spent a lot of time arguing the Big Bang. This was unnecessary since I'm happy to accept the Big Bang origin of the universe. Show me something that's the scientific consensus, and I'm there.
That doesn't mean that the universe came from nothing, of course, which is where Rand went next. Science has ideas about what happened "before" the beginning, but there is no consensus yet.
Ironically, we know about the Big Bang from science, the only discipline that ever tells us new things about reality. That Christianity doesn't offer anything here should be embarrassing.
Rand argued that something can't come from nothing … but concluded that God made the universe from nothing. Ironic.
He mentioned Antony Flew's conversion to deism. That might be relevant if Flew, a philosopher, had any scholarly credibility in the domains of the arguments that he said convinced him. He doesn't. (More here.)
Rand's arguments often devolved into, "Science has unanswered questions; therefore, God." I should've asked if this really was, at root, where he was coming from.
I made clear that the Copenhagen model of quantum mechanics says that some events have no cause (for example, the electron that comes out of a decaying nucleus had no cause and can be described only probabilistically). Admittedly, physics has other possibilities, but this means that Rand's starting point is "everything that begins to exist might have a cause," which doesn't do him much good. His response was to explicitly dismiss my point and double down on common sense with "everything has a cause."
2. Transcendental Argument for God + Evolutionary Argument Against Naturalism. Rand argued that the atheist must use Christian reason to attack Christianity. This is ironic since earlier he had used Christianity-free science to attack atheism.
In the interest of brevity, I'll point to my earlier posts on TAG and Plantinga's EAAN.
3. Argument from Design. He focused on information (that is, DNA) and gave quotes from Antony Flew (not a biologist) and Stephen Meyer (also not a biologist). No more irrelevant quotes from people outside their domain of expertise, please!
I responded that the Design Argument fails when applied to DNA. The Design Argument says that DNA looks like it was created by a designer. The only designers we know about are human ones, and they have a small number of goals they try to balance: cost, strength, beauty, and so on. Human designers never put junk into their designs. And yet, when you look at DNA, you see junk all over the place.
DNA is not proportional to complexity, and there are salamanders, fish, beetles, ticks, snails, and even plants that have much more DNA than humans do—as much as 200 times more. The excess DNA is apparently unnecessary.
Human DNA has 20,000 pseudogenes—genes that are broken versions of working genes we see in other animals, like the nonfunctional vitamin C gene that every cell in your body has.
Endogenous retrovirus DNA composes 8% of human DNA, a record of millions of years of viral infections.
Finally, we see vestigial structures (such as nonfunctioning eyes in cave fish and a pelvis in whales) and atavisms (such as legs on snakes and teeth in chickens). More here.
My argument. I wanted arguments that would be short, easy to understand, and surprising. I used these eight arguments:
I've seen atheist debaters start with rebuttals to Christian arguments (here's why evolution explains morality, here's why the multiverse is a plausible response to the fine-tuning argument, and so on). That's a bad move. More effective is to start with an opening salvo of your own positive arguments that the Christian opponent must respond to.
If I were to do another debate, I might deliberately change my opening arguments just to surprise my opponent. I've got plenty. (In fact, I'm mulling the idea of another book titled 25 Arguments for Atheism that would focus on positive arguments for atheism rather than the more typical arguments against Christianity. What do you think?)
How the debate progressed. In a formal debate, arguments are numbered so that everyone keeping score can see whether arguments are addressed or ignored. Rand sort of touched on only the first two arguments. For 1, he argued that there are plenty of Christian historians. (I'm focused on the historical consensus, which universally scrubs the supernatural out of history.)
For 2, he said that apparently nothing will satisfy atheists. They're determined to turn up their noses at whatever evidence Christians give. (Surely I can't be faulted for wanted more than we have now.) He also said that signs and wonders wouldn't be signs and wonders if they happened all the time. (Do you want signs and wonders, or do you want undeniable evidence of God? I'll go with the latter.)
Debates are more performance art than actual debate. If this had been just the two of us with an impartial judge, I would've hammered on the fact that he did next to nothing to respond to my arguments. But since it was public, that would've been poor form. I repeated the titles of the arguments in my closing comments. Technically, I should've at least mentioned that we heard little besides crickets in response, though I think I avoided even that.
The result was that the debate was fought almost exclusively on his turf, discussing his arguments. There simply was very little to say to bolster my arguments since they'd barely been touched. Again, in a proper debate, that would've been a strategic mistake for me. And maybe it was here, but decorum seemed to forbid it.
Quotes. What is it with Christian arguments and quotes? I didn't keep track, but it sounded like he quoted a dozen scholars. I use quotes myself, but almost never to establish a fact. Maybe I'm simply not drawn to arguments where there are polarized opinions. I'll have to think about that.
Preparation. I had printed out notes on a number of topics, just in case. That came in handy when Rand quoted from Alexander Vilenkin about the power of the BGV theorem in denying the possibility of a past-eternal universe. Luckily, I was able to quote Vilenkin from the very next page in his book: "The theorem that I proved with my colleagues does not give much of an advantage to the theologian over the scientist."
Friendly faces. I met Darrell Barker, brother of Dan Barker, co-president of the Freedom From Religion Foundation. Darrell is active in local freethought activities. Also there were Sam Mulvey and Becky Friedman from the Ask an Atheist radio show and podcast, and lots of other supportive friends.
Final thoughts. A debate like this, with mostly Christians in the audience, is tricky because they're eager to put the atheists into the negative bin they've prepared for them. I tried to be polite, but you can't be nonconfrontational in a debate. If my audience had simply been only the atheists in the audience or at this blog, I would've been far more forceful. Instead, I tried to appeal to the Christians.
The video of the debate is here.
Hemant Mehta recently argued that arguments about God's existence are pointless. I argue much better through writing than speaking, and Hemant is right that it's just a show and neither participant will budge. He raises good points, though Rand provided me with a lot of attentive Christians to whom I could provide new ideas. Maybe these will germinate months in the future.
And I guess I just like to argue.
If you want to go to an event where anything gets settled,
I recommend a hockey game.
— commenter on the futility of debates
Photo credit: purple rain