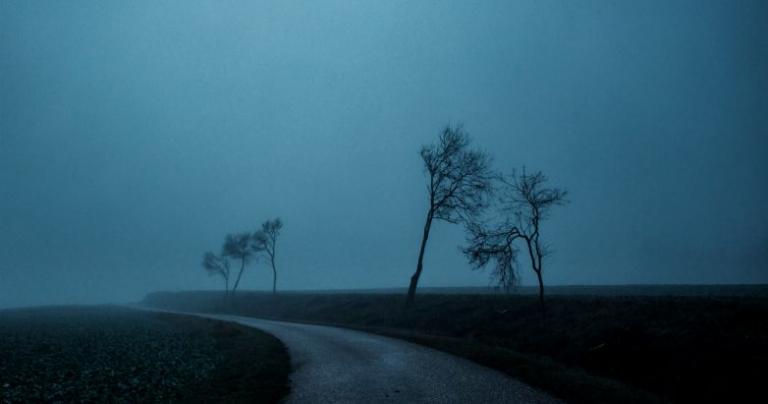 We've analyzed New Testament manuscript evidence twice to poke holes in claims for its reliability. In short, the manuscript evidence is pretty good considering that it's so old, but let's not pretend that we know with certainty what the originals said.
Let's review those two analyses and move on to a third. Remembering that the New Testament isn't a book but is actually a library, our third analysis looks at manuscript support for those 27 books individually.
1. 25,000 New Testament manuscripts sounds more impressive than it is
Yes, there are 25,000 New Testament manuscripts, and that's more than any other book of antiquity. Homer's Iliad comes in second place, with 1757 manuscripts. On the other hand . . .
Only 5800 of those manuscripts are in the original Greek. The rest are translations, are less reliable, and should be discarded in the quest for the best manuscripts.
Plot a histogram of the creation date of those Greek manuscript copies. There's an enormous time gap between the original authorship in the first century and most of those copies. On average, it's over a thousand years. One amusing instance of ignoring this was in the movie The Case for Christ where a priest showed an illuminated page from Homer, emphasizing that it was written 800 years after the original. What he didn't mention was that 800 years is better than 90 percent of those Greek New Testament manuscripts (my review of that movie here).
The 5800 Greek manuscripts have now become just the hundred or so from before 400 CE that are closest to the originals.
That argument in detail is here.
2. The chapter-by-chapter dates tell a similar story
Codex Sinaiticus, copied in roughly 350 CE, is our oldest complete New Testament. It is a codex (that is, a book rather than a scroll), and it was written on parchment (rather than papyrus, which was the material used for the earliest copies).
It would be easy to simply point to that manuscript and be done with it, but that would mean a three-centuries-long gap from Codex Sinaiticus back to the original authorship in the first century (as early as the 50s CE for Paul's epistles to 100 or later for John, Revelation, and many of the other epistles). We can reduce that gap with these early manuscripts but by how much?
I've found the date of the oldest manuscript for every chapter in the New Testament and charted the time gap to the original here. Matthew's per-chapter average from original to oldest copy is 200 years. The per-chapter gap for Mark is a little more and for Luke and John a little less. Note that these early chapters are usually incomplete. If a fragment has only a single verse of a chapter, that counts as a "manuscript."
The average per-chapter gap for the entire New Testament is close to 200 years. That's a long dark ages period during a tumultuous time for the Christian message.
(Let me apologize for the upcoming deluge of details in this post. I think you'll be interested in how the clues fit together, and I'll try to highlight the conclusions so you can clearly see the finished puzzle.)
3. The per-book number of manuscripts is quite small
And now to the topic of this post: let's look more closely at that handful of manuscript copies that are Greek and early (made before 400 CE).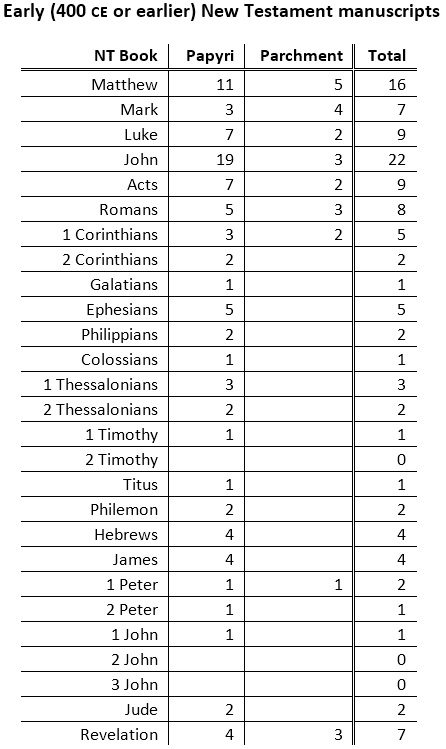 New Testament Greek manuscripts are sorted into categories. Papyrus copies, usually scrolls, tend to be the oldest. Parchment copies, usually codices, were written on animal skins. The source data for this table is Wikipedia here and here.
To improve on Codex Sinaiticus, this is what we have to work with. The gospels have a decent number of manuscripts—16 for Matthew and 22 for John—but 16 books have 3 or fewer early manuscript copies, and 3 of those have none.
(I erred on the cautious side when making that table, including all manuscripts from 400 or earlier.)
The Matthew manuscripts
Let's take Matthew as an example to see how the puzzle pieces come together as we move forward through time. Start with the original Matthew, written in 80. Our oldest manuscript is P104 (papyrus #104), dated to 150. It has 7 fragmentary verses from one chapter of Matthew. Keeping in mind that these dates are just educated guesses, that means that 70 years after the original we have less than 1% of the total.
By 200, we have 4 manuscripts and 3% of the verses of Matthew.
By 250, 9 manuscripts and 13%.
By 300, 13 manuscripts and 16%.
And by 350, we have 20 manuscripts and our first complete one, Codex Sinaiticus. At this point, most verses still have only a single version, but at least we have a copy for each.
The other gospels
The numbers are similar for other books, but there's a new wrinkle. Early manuscripts of Mark would have just 6 verses (less than 1%) before Sinaiticus except for manuscript P45. Add P45, and now we have 23% of the verses in Mark.
The story is similar with John and Luke. They have a decent number of manuscripts (9 for Luke and 22 for John), but manuscripts P75 and P66 along with P45 probably double their pre-Sinaiticus percentage.
Add in P46, which contains a lot of the epistles, and we see these early manuscripts in a new light. We're trying to recreate the original book with the oldest manuscripts, and our tools are now one complete codex (Sinaiticus) and four good-sized papyrus fragments (P45, P46, P66, and P75). The remaining 65 manuscripts from before 350 are of secondary importance because they typically hold only a dozen verses or so.
Manuscripts: a closer look
Let's return to Matthew to look at a couple of manuscripts in more detail. Remember that "by 300 CE, we have 16% of the verses of Matthew" means that we have one or more words of 16% of the verses. Consider Papyrus P62, which has Matthew 11:25–30. That's it—those six verses are a "manuscript." But it's not even that since each of those six verses is incomplete.
And don't imagine that these early manuscripts do little but boringly validate each other. This summary of the character of manuscript P45 is from E. C. Colwell, a paleographer (expert in ancient handwriting).
As an editor the scribe of P45 wielded a sharp axe. The most striking aspect of his style is its conciseness. The dispensable word is dispensed with. He omits adverbs, adjectives, nouns, participles, verbs, personal pronouns—without any compensating habit of addition. He frequently omits phrases and clauses. He prefers the simple to the compound word. In short, he favors brevity.
This scribe, writing in roughly 250, apparently felt little hesitation to improve the text of the Bible, so we should anticipate that from the scribes of other manuscripts.
If the few manuscripts that we have admit that the early Christian centuries were a turbulent time for the biblical message, we must expect at least the same amount of volatility in the perhaps hundreds of manuscripts that are lost. We can only imagine the changes made in the journey from originals to our best copies.
Conclusions
We'll pull back from all these details to find some conclusions.
Let's review some definitions. "Early" in this domain needn't be especially early. An early New Testament manuscript could be from 400 CE or earlier, which makes it three centuries or more after the original. "Manuscript" might only be a fragment containing a few verses, and a "verse" need only be a single word.
Remember that we started with 25,000 New Testament manuscripts and the claim that that's a far better foundation than any other ancient document. That number became 5800 Greek manuscripts. Then it became the oldest manuscripts, less than 100. And now the focus is on a single complete codex (Sinaiticus, made roughly 300 years after the originals) plus 4 primary papyrus manuscripts with other manuscripts secondary. This is the foundation that scholars use in recreating the New Testament originals. Those scholars do impressive work, but let's remember the fragmentary evidence they are stuck with. We can't be certain what any verse originally said. I have a thought experiment that is helpful to make this point.
Even where we have an impressively old and comprehensive manuscript such as P45, we still have a big confidence gap. P45 was written a long time after the gospels—close to 200 years—and it has a unique voice so that merging it with other sources to recreate the original isn't a simple process.
We must be appropriately cautious about manuscript dating. Perhaps you've heard about the recent fiasco about a claimed first-century Mark. New Testament scholar Daniel Wallace announced in 2012 that a papyrus manuscript containing a fragment of Mark had been reliably dated to the first century. After six years of rumors (and much bragging by apologists), this manuscript has been re-dated to the late-second/early-third century timeframe. Paleography is a tricky business.
All this is a process to get back to the original books, but even if we had them, they would still tell an ancient supernatural story with nothing more to recommend it than any other ancient supernatural story.
Let's accept the popular apologetic argument that the New Testament manuscripts make a better record than that for any other ancient author—Homer, Thucydides, Herodotus, Sophocles, Julius Caesar, and so on. So what? Nobody much cares if Caesar's On the Gallic War is full of errors. We don't take any of their supernatural claims as history, and we certainly don't use their writings as a template for how to live. A comparison with the Bible is meaningless.
Continue: see this data in visual form here.
Belief in God is based on nothing
but wishful thinking and a fear of the dark.
— commenter Bob Pattinson
.
Image from Jakub Kriz, CC license
.