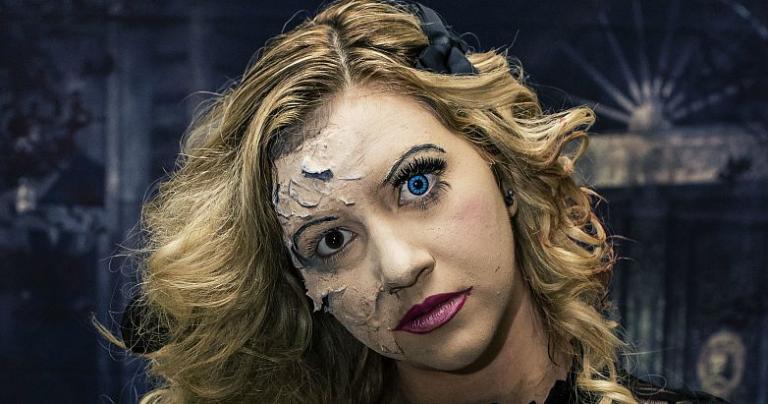 A blogger in the Evangelical Christian channel at Patheos has helped us out by identifying atheists' worst arguments. The post is The Five Worst "Arguments" (or Claims) Made by Internet Atheists by John Mark Reynolds.
Are these arguments as shallow as Reynolds tells us? Let's put on our waders and jump in.
1. "The Middle Ages were the Dark Ages, because 'religion.'" 
This isn't quite the argument I make, though it's an intriguing area of research. During the medieval period in Europe, the church punished incorrect science (which to them wasn't science poorly backed by evidence but science that offended or contradicted the church). Galileo wound up on the wrong side of this, for example.
What if there had been no Christian church dominating the conversation? No Witches Hammer to guide the torture and punishment of witches. No easy "God did it" answers or "That's blasphemous!" restrictions to shut down inquiries about nature. No Index librorum prohibitorum (list of forbidden books).
On the other side of the ledger, the church did create religious colleges and primitive hospitals, and it funded artwork and cathedral building.
But that's not the issue here. Let's return to Reynolds.
Historians do not call the period of Western European history the "dark ages." They were not dark.
The Dark Ages (roughly 400 – 1000 CE) can mean several things. The term can refer to the lack of historical records (that is, our view of that period is dark), or it can refer to the slow progress during the time between Roman times and the Renaissance (that is, it was a time of intellectual darkness).
Richard Carrier argues for the latter interpretation with charts showing dips during the Dark Ages for metal production, shipwrecks, urbanization, and wealth over time.
Quibbling over labels isn't interesting. What is interesting is that Christianity presided over a regression of progress. In much of Europe during the Dark Ages, old Roman roads, buildings, and aqueducts were still in use but beyond the engineering ability of the civilizations that inherited them (more here and here). That sounds pretty dark to me.
Second, the discussion ignores the Eastern Roman Empire that maintained a secular "university" tradition for almost all her history as a Christian area.
Guess what event shut down higher education in Constantinople. It was the capture of Constantinople in 1204 during one of the Christian Crusades.
And support for higher education (not really universities) in the Byzantine Empire doesn't change the fact that Christianity had a huge influence in Western Europe during this time with little to show for it.
Remember what the Bible promises. Jesus said, "Give, and it will be given to you" (Luke 6:38). He made many assurances that prayers will be answered without qualification. For example, "You may ask me for anything in my name, and I will do it" (John 14:14). The Bible tells us the beneficence of God:
No one who has left home or brothers or sisters or mother or father or children or fields for me and the gospel will fail to receive a hundred times as much in this present age (Mark 10:29–30).

Bring the whole tithe into the storehouse . . . and see if I will not throw open the floodgates of heaven and pour out so much blessing that there will not be room enough to store it (Malachi 3:10).
The religion of
this
generous god was in charge of Europe for 1500 years? You certainly wouldn't know it from the slow rate of progress.
2. "I do not know modal logic, but Plantinga's version of the ontological argument is bad." 
If I can't read Russian, I shouldn't judge the Russian version of Tolstoy's War and Peace. "Since I do not read Russian, I must go with the consensus or cite and follow responsible dissident scholars. . . . In the same way, I cannot evaluate a modal argument, if I cannot read a modal argument."
Let's go to the source. Here is Plantinga's conclusion on his own argument: "Our verdict on these reformulated versions of [Anselm's ontological] argument must be as follows. They cannot, perhaps, be said to prove or establish their conclusion." Plantinga himself says that nothing can be built on this argument.
I put in the tedious hours to understand this argument, and, just as I suspected, this was just more dust thrown up to obscure things. The various ontological arguments are effective, not because they're accurate but because they're confusing. They're caltrop arguments. Lay Christians can easily point to arguments like this that are opaque to them and demand that the atheist answer it. It doesn't convince them, and it's not important to support their faith, but it's an effective apologetic tool because it's a confusing argument put forward by a respected scholar. Gee, the atheist thinks, maybe there's something to this one . . .
Nope, they're crying wolf again. My critique is here.
But back to Reynolds: he's right, of course, that we should have good reasons for our conclusions and fall back on the experts (where there is a consensus) in areas where we're unqualified. He concludes, "Opining or constructing counter-arguments with no training or ability is like attacking Tolstoy's Russian with no Russian."
There's more than a bit of hypocrisy in this good advice when we discover that he's a young-earth creationist, even though he's not a biologist, cosmologist, or geologist.
3. "Philosophy is useless. We just need science." 
"This is, of course, a statement of philosophy and not science. The statement refutes itself."
Then fix it. Don't say, "Aha! You didn't say 'Simon says'!" to get off on a technicality. I've written more about the cowardice that's sometimes behind Christian charges of self-defeating statements here. (Reynolds does, to some extent, strengthen this argument and respond to it.)
I'm happy to give philosophy its due. I do notice, however, that there are annual top ten lists of science and engineering developments but none for philosophy. Science delivers.
Was Werner Heisenberg doing philosophy when he came up with his uncertainty principle? Maybe so. But that was a physicist putting on a philosopher's hat. The problem is when a philosopher puts on a physicist's hat as (for example) William Lane Craig tries to. His bringing philosophical truisms ("Whatever begins to exist has a cause" or "Out of nothing, nothing comes") to a cosmological issue is to bring a knife to a gun fight.
I explore the limits of philosophy here.
To be concluded in part 2.
I broke up with Jesus. People often ask me why.
There were plenty of reasons but one of the main ones
was that he wouldn't return my calls.
— Neil Carter, Godless in Dixie blog
.
Image from micadew, CC license
.