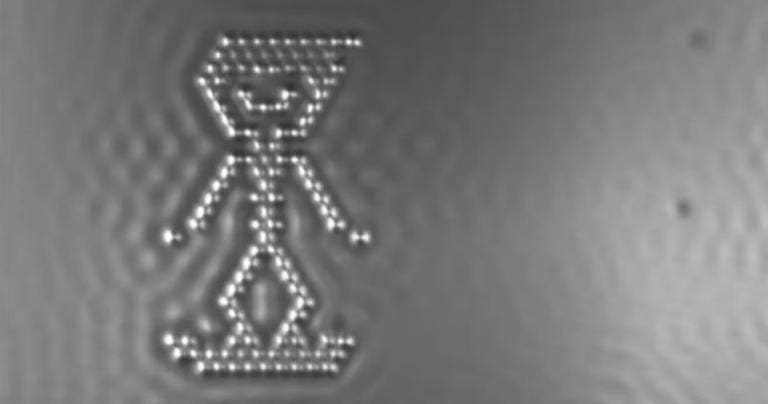 Many technology companies are working on different approaches to quantum computers, and Google recently claimed an impressive success. Their Sycamore quantum processor did in a few minutes what the most powerful supercomputer would take 10,000 years to accomplish. Performing a calculation with a quantum computer that would be practically impossible for a conventional computer is called "quantum supremacy."
IBM rained on the parade by stating that that supercomputer would've completed the calculation in just 2.5 days. Regardless of whether a conventional approach would've taken 10,000 years or 2.5 days, it was an impressive achievement, but it did lead to an amusing article title, Google both has and hasn't achieved "quantum supremacy".
We need a brief detour to make sure we're on the same page about why this title is clever, and then we'll search for that quantum feature within Christianity.
Quantum computers use quantum superposition. A quantum particle that could be in one of two states—let's say spin up or spin down—can be spin up, spin down, or a superposition of probabilities for being in either one. The superposition goes away if the particle is forced to pick one or the other. It's a quantum particle's ability to hold two states at once (or something like that) that allows remarkable parallelism compared to a conventional computer, which uses bits that are either 0 or 1, and that's it.
Superposition of two states—two states being held at once—is the key to quantum computing, and that was the allusion behind the title, "Google both has and hasn't achieved quantum supremacy."
We can find that superposition within Christianity, too.
Christian superposition: what is prayer good for?
My macro-world example of superposition is not Schrödinger's Cat but Christian apologists. Christians often respond to challenges without considering the consequences so that they're saying one thing to respond to a challenge but the opposite to respond to another. They answer with blinders on, determined to find a pleasing answer but uninterested in or unaware of how their conclusions will affect the rest of their Christian worldview.
As an example, I wrote about a blatant contradiction within Greg Koukl's Stand to Reason ministry. During Christmas season last year, one of their staffers (Melinda) suffered a serious head injury. Koukl said:
I don't know what God's thinking about things, but I know what Christians are doing and I hope you're doing with us—you're praying like crazy. And that's what we want you to keep doing—praying Melinda out of this.
That's not surprising. That's a typical Christian approach to prayer. But six weeks earlier, Koukl responded with a very different response to another tragedy, a mass shooting in a church that killed 25 and injured 20. Those people were very likely praying, but it obviously didn't do much good. Ever eager to explain away God's absence, Koukl inverted his argument and stated that it's foolish to expect God to answer prayers for protection.
Why expect God to help Melinda's injury but ridicule the idea that God would help Christians praying for their lives in a church? Koukl treats God as a sock puppet whose viewpoint can change completely if necessary.
Christian superposition and the structure of a sitcom
Seeing unchanging and omniscient "God" dance between alternatives as his master demands reminds me of a popular structure for a television comedy. TV Tropes calls it the "Fawlty Towers Plot" (Fawlty Towers was a British sitcom) though it's evident in I Love Lucy and many others. First, someone tells a small lie. To avoid getting caught, they tell a larger lie, and so on. The snowball rolls downhill until eventually crashing into reality in the end.
In a similar way, the Christian feels obliged to defend Christianity, the Bible, or God regardless of the evidence or the consequences. When that answer is shown to be in conflict with something else, out comes another rationalization that may in turn come back to bite them. Lather, rinse, repeat.
Christian superposition: contradictions
Perhaps the clearest example of this superposition is monotheism vs. the doctrine of the Trinity. Muslim apologists gleefully point out the contradiction since both Islam and Christianity inherited the primacy of monotheism from Judaism. Nevertheless, it's hard to shoehorn "the Father is Almighty; the Son Almighty; and the Holy Ghost Almighty" (from the Athanasian Creed) into a single god.
I attended a Sunday school class on biblical inerrancy. The teacher's stock answer when faced with two seemingly incompatible Bible passages was, "They're both true." The differing numbers of women or angels at the tomb? Jesus's differing genealogies? How Judas died? Somehow, both options are always true.
Useful homework for Christian apologists would be to create a gospel harmony, a single document that attempts to collect and make sense of every declaration in the four canonical gospels. Tatian's Diatessaron from the second century is the most famous, but many harmonies have been created. None resolve the contradictions. The naturalistic hypothesis is hard to beat: the Bible is a manmade document composed of mythology, legend, and wishful thinking, plus some accurate history.
The fundamental that apologists always seem to miss is that their goal isn't to find an answer to every challenge but to find the best answer.
Quantum computing and consciousness are both weird
and therefore equivalent.
(Or not: see
SMBC comic
for more)
.
Image from IBM
.