Cross Examined: An Unconventional Spiritual Journey
"A fascinating novel of ideas … puts a whole new light on apologetics."
— Dr. Robert M. Price, author of Deconstructing Jesus, The Case Against the Case for Christ, and many other books
"I enjoyed the book for its value as a story. It's a riveting tale, and the author is to be commended for being an excellent story teller.… If you like a good story, are interested in apologetics arguments, [and] care to face arguments that oppose your faith, … I recommend that you read this book."
— Pastor Jason Skipper (PastoralMusings.com)
"Bob Seidensticker's Cross Examined is a great read on two fronts. You won't find a better book on Christian apologetics and the rebuttals … and the story is compelling, with a startling climax. Highly recommended."
— Paul Gabel, author of Inventing Jesus: The New Testament Narrative as Fiction
In 1906, three men share a destiny forged by a prophecy of destruction. That prophecy comes true with staggering force with the San Francisco earthquake and fire, and young assistant pastor Paul Winston is cast into spiritual darkness when his fiancée is among the dead. Soon Paul finds himself torn between two powerful mentors: the charismatic pastor who rescued him from the street and an eccentric atheist who gradually undercuts Christianity's intellectual foundation.
As he grapples with the shock to love and faith, Paul's past haunts him. He struggles to retain his faith, the redemptive lifesaver that keeps him afloat in a sea of guilt.
But the belief that once saved him now threatens to destroy the man he is becoming.
Paul discovers that redemption comes in many forms. A miracle of life. A fall from grace. A friend resurrected. A secret discovered. And maybe, a new path taken. He realizes that religion is too important to let someone else decide it for him. The choice in the end is his—will it be one he can live with?
Cross Examined challenges the popular intellectual arguments for Christianity and invites the reader to shore them up … or discard them. Take the journey and see where it leads you.
Read a review by Dr. Robert M. Price
A Modern Christmas Carol
"[A] masterful retelling … well done!"  — Tom Flynn, editor of Free Inquiry magazine and author of The Trouble with Christmas
"Consistently ingenious and beautifully written … thought-provoking!" — Dr. Robert M. Price, The Bible Geek
"Clever and brilliantly told, I'll even admit to tears at the end! A Christmas story I'm happy to share." — Gretta Vosper, minister and author of With or Without God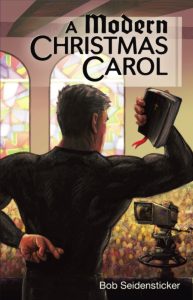 In a thought-provoking retelling of the Dickens classic, A Modern Christmas Carol tells the story of a shrewdly successful televangelist who receives unexpected Christmas visitors: first, his long-dead partner, and then three ghostly guides.
Finally able to acknowledge the shallowness of his message and doubts he has long suppressed, he makes amends with far-reaching consequences.
Most readers will enjoy seeing a televangelist get his comeuppance, but this book is more than that. It explores faith and the evidence for Christianity, and it should provoke or intrigue any reader interested in the impact Christianity has on modern society. It will engage thoughtful readers who enjoyed the intellectual workout of books such as C. S. Lewis' Mere Christianity or Richard Dawkins' The God Delusion.
Buy your copy
The book is available on Amazon as a 115-page paperback ($5.39) and a Kindle ebook ($1.99).
More praise for the book
"A clever little book, filled with insights, that takes the conceptual framework of Dickens's Christmas Carol to new heights of rationality without sacrificing any of its compassion." — Paul Gabel, author of Inventing Jesus
"In this retelling of the Dickens classic, Bob Seidensticker gives age-old vices and values a modern face, one that is as familiar and clichéd—and yet also as engaging and provocative—as the crotchety old Dickens banker himself."
— Dr. Valerie Tarico, author of Trusting Doubt: A Former Evangelical Looks at Old Beliefs in a New Light 
"The author does all atheists a service by having his characters express profound arguments against the claims of traditional religion. He does all Christians a service by providing them the safe environment of a novel as an impetus to begin to question their faith within the privacy of their own minds."
— Edward Tabash, Constitutional lawyer, atheist and church/state separation activist
"Move over, Ebenezer Scrooge and Charles Dickens. Bob Seidensticker's hero in A Modern Christmas Carol, successful televangelist Nathan Thorpe, won't please or satisfy everyone. Atheists who find Christianity irredeemably foolish and Christians unwilling to brook even thoughtful, honest criticism may take offense. But those who want real philosophical and philanthropical progress, who find powerful truths and positive values in Christianity and who care about giving to others, even as they are appalled or embarrassed by demagogic TV preachers and charlatans, will love this book. They'll want, in fact, to give copies of it as end-of-the-year presents to all their friends, religious and irreligious alike. A compelling read and a nice follow-up to Seidensticker's earlier Cross Examined."
— Ed Buckner, co-author of In Freedom We Trust (Prometheus, 2012) and former president of American Atheists.
"A Modern Christmas Carol is a fresh re-imagining of Dickens' well-known novella for a new era, deftly weaving character, dialogue, and action. Skeptics and other non-believers are bound to cheer when the greedy televangelist is motivated, in some surprising ways, to give up his very un-Christian lifestyle and do good."
— Susan K. Perry, author of Kylie's Heel and three blogs, including Creative Atheist
About the Author

Bob Seidensticker is the author of the Cross Examined blog ("Clear thinking about Christianity").
After graduating from MIT in 1980, Bob designed digital hardware, about which he wrote his first book in 1986. He has programmed in a dozen computer languages and in environments ranging from punch cards to Windows. He is a co-contributor to 14 software patents and has worked at a number of technology companies from a 10-person startup to Microsoft and IBM.
Since leaving Microsoft, he has focused on writing. Future Hype: The Myths of Technology Change (Berrett-Koehler, 2006) explored technology change—how we see it and how it really works. Cross Examined: An Unconventional Spiritual Journey was his first novel.
His latest is A Modern Christmas Carol, a novella in which a modern televangelist gets the Scrooge treatment.