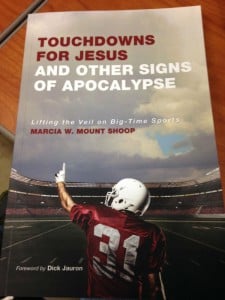 Just in time for the meat of college and pro football seasons, a new book is out entitled Touchdowns for Jesus and Other Signs of the Apocalypse by Marcia Mount Shoop. Readers of Sports Illustrated will recognize the "signs of the apocalypse" part of the title as a take-off on a weekly graphic that reports sports-related realties so defiant of logic that no other explanation aside from the end of the world makes any sense. Recent examples have a stunt woman in Sydney, Australia, breaking a Guinness World Record by riding a motorized toilet at a speed of 46 mph. Or police being called to a dialysis clinic in Georgetown, Ky. prior to a basketball game between Kentucky and Louisville to break up an altercation between two patients: a 68-year-old Wildcats fan and a 71-year-old Cardinals supporter.
In a review of her book (as reviewed by Joseph Price), Shoop "realigns football with apocalyptic thought by using the theological concept of 'the unveiling of truth' (a revelation) to analyze the systemic dysfunction of professional and near-professional football programs at major universities. She pursues this theological track because, as she observes, football 'captures our imagination and elicits our deepest emotional outpourings much more than any religion does.'"
Like a prophet, Shoop decries the institutional distortions and abuses of big-time football, drawing on the data and personal experience to support her argument. In the NCAA, the disparity between the economic advantages and disadvantages of the privileged and the poor is outrageous. Although the NCAA's revenue in a recent academic year approached $1 billion, most of the players in Division I football and basketball, and mostly black, who generate the bulk of the funds for mostly white administrators and supporters, live below the poverty line. Sadly (for me) Shoop focuses her critique on the University of North Carolina (my alma mater), where her husband had served as an assistant coach before he was fired—along with the entire coaching staff—following, ironically, an NCAA investigation.
Among accounts of academic cheating and fake classes is the case of one black player from an impoverished  family who fainted because he hadn't eaten for days over a break between school terms. He'd been receiving his allotted per diem for food while the university's cafeteria was closed, but had sent the money home to help his family pay the bills. Had he accepted a complimentary meal from someone while receiving his food allowance, he'd have lost his eligibility.  Clearly such a twisted culture begs a righteous response. Mine has been a meager though life-threatening protest. Bothered by the injustices and abuses—not to mention concussions and other violence within—I disconnected from DirecTV which required my perching precariously on my roof in order to cut down my dish.
I hadn't watched a football game all season until I discovered you could buy an indoor HD antenna for 50 bucks just in time to watch Tom Brady beat the crap out of the Broncos and Peyton Manning. When it comes to football, I'm as big a hypocrite as any fan.
Read the connection to Revelation here.