Over at ADF Druidry, Rev. Jan Avende is bringing some much needed brightness into the world. She's running a shrine challenge with prompts and a hashtag so that anyone who wants to participate can, whether they're an ADF member or not. It's a dark time of year, and it's been a hard year for many of us. I'm looking forward to participating in some pagan fun!
Without further ado, I'm going to copy (with permission!) from the original blog post:
Most of us probably keep at least one shrine or altar in our homes, or in our pocket for travel, and many folks cycle through various altar decorations based on what they're doing or the time of year. That is the inspiration behind this latest challenge that I'm issuing. The #DailyShrine Challenge. We all have different ways our shrine can look based on who we're honoring or what we're doing. This all began when I issued the first #prayeraday challenge a couple years ago, and this year even more people joined in, sharing the prayers they'd written, one for each day in November, with us. It's a way for us to get involved, come together. We're able to build that group mind and that fellowship that we crave. The #DailyShrine Challenge I'm hoping will work the same way: it will allow folks to get involved at their comfort level, and feel a bigger part of Our Own Druidry.
Like the #prayeraday challenge, this #DailyShrine challenge can be as intensive or chill as you want it to be. There is a theme for each day, which I've included below. You can simply use that theme to decide how to decorate or present your shrine or altar, or you can get more in depth with the theme. You could let it guide your devotional work, any prayers you make, or any spirits you call out to on that day. At it's base the challenge is to just post at least one picture of your shrine for that day with however you interpret the theme. I've got several shrines and an altar at various locations in my house, and some days I might have multiple ideas for how to present that theme.
The challenge will run from February 1 – March 21, so it will carry us from Winter into Spring. Post all the days if you can, but don't feel like you can't participate if you can only do a few days, or if you start late, or if you miss some days. Do however many days you can do, and that's just fine. This is about sharing our work with each other, because as we each light a single flame at our shrine, those lights grow and bring warmth to our shared fellowship, to Our Own Druidry. As you are posting pictures of your shrines, remember to use the tags #DailyShrine and #adfdruidry so others can find them easily and we can cheer each other on.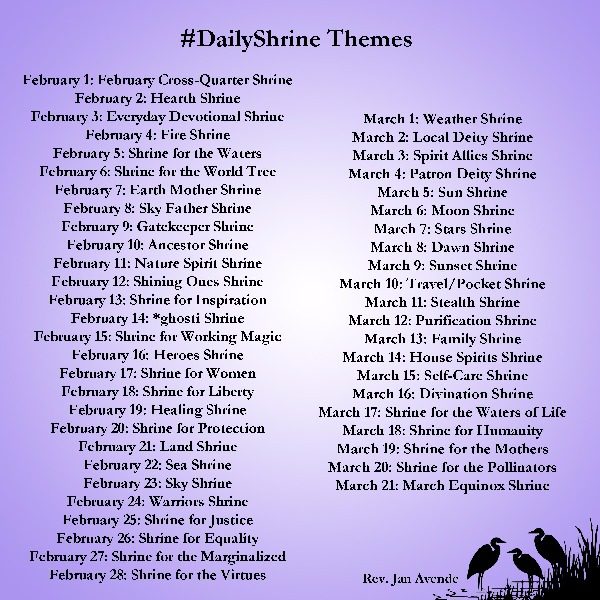 February 1: February Cross-Quarter Shrine
February 2: Hearth Shrine
February 3: Everyday Devotional Shrine
February 4: Fire Shrine
February 5: Shrine for the Waters
February 6: Shrine for the World Tree
February 7: Earth Mother Shrine
February 8: Sky Father Shrine
February 9: Gatekeeper Shrine
February 10: Ancestor Shrine
February 11: Nature Spirit Shrine
February 12: Shining Ones Shrine
February 13: Shrine for Inspiration
February 14: *ghosti Shrine
February 15: Shrine for Working Magic
February 16: Heroes Shrine
February 17: Shrine for Women
February 18: Shrine for Liberty
February 19: Healing Shrine
February 20: Shrine for Protection
February 21: Land Shrine
February 22: Sea Shrine
February 23: Sky Shrine
February 24: Warriors Shrine
February 25: Shrine for Justice
February 26: Shrine for Equality
February 27: Shrine for the Marginalized
February 28: Shrine for the Virtues
March 1: Weather Shrine
March 2: Local Deity Shrine
March 3: Spirit Allies Shrine
March 4: Patron Deity Shrine
March 5: Sun Shrine
March 6: Moon Shrine
March 7: Stars Shrine
March 8: Dawn Shrine
March 9: Sunset Shrine
March 10: Travel/Pocket Shrine
March 11: Stealth Shrine
March 12: Purification Shrine
March 13: Family Shrine
March 14: House Spirits Shrine
March 15: Self-Care Shrine
March 16: Divination Shrine
March 17: Shrine for the Waters of Life
March 18: Shrine for Humanity
March 19: Shrine for the Mothers
March 20: Shrine for the Pollinators
March 21: March Equinox Shrine