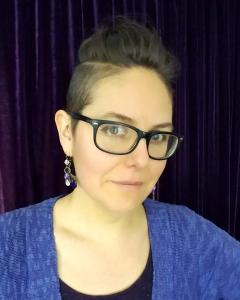 Melissa Hill is a Priestess and Spiritworker.
Her passion is to delve into the intersections between ancient lore and modern science. She is a Spiritual Artist who works in watercolor, linocut, bone, and assemblage. She is a Writer who finds herself in the intersection of activism, herbalism, sustainability, motherhood, and paganism. It ends up being political far more often than she had originally expected.
Motto: To create beauty in harmony with the Earth.
Turns out discovering and implementing harmony in our unbalanced world is a big proposition. Harmony has become her life's work as she has deepened her knowledge of intersectional feminism, racism, and how those things are reflections of our disregard for the Earth herself. She hopes to learn a Baltic language someday when she has some free time and wants to learn to make robotic stuffies with her youngest daughter. She has talked with the Gods and Spirits since she was a kid, which definitely affected her middle class suburban upbringing. As a mother and community leader she has developed methods for including kids of all ages in ritual and bringing people closer together through transformative experiences. As a scholar, she is committed to thoughtful religious education and development of useful and practical modern pagan theology.
She is a devotee of many Gods, including the Baltic gods, the Norse gods, and respectfully the Lwa. She worships the Dawn and the Starry Void, as well as working with the local rivers and the ancestral heroes.
She offers practical advice and services in ritual design including weddings, funerals, coming of age rites, naming ceremonies, momma blessings, high day rites and moon rites.
She is a paid exorcist, artist, graphic designer, web designer, diviner, tattoo designer, farmer, herbalist, day care worker, bread baker, maker of sandwiches, and life coach. She's a busy lady. You can find her work in the Pagan Leadership Book and The Wheel of the Year.
Find her around the web:
Patreon has special content, personal blog posts, and bonus PDFs as well as access to her newest artwork.
Etsy is where you can pick up prints of her original watercolor paintings, bone jewelry, PDFs, activity books and more.
Instagram is filled with rainbows, skulls, and things that delight.
Youtube stores visual media, including prayers, rituals, and chicken videos. Because chickens are awesome.
Just like the rest of the world, Facebook has eaten her life. You can find here there chatting in various pagan groups as well as at her Services Page and her Writer's Page.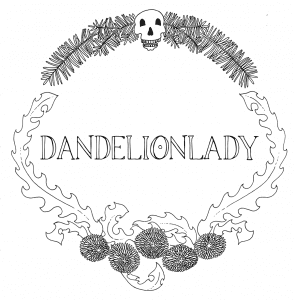 If you're curious, the name Dandelionlady comes from the ancient days of LiveJournal. The story goes that her cat was sick and she couldn't afford the expensive blood transfusion that would help him live. She brought him home to pass with those he loved, but decided it wouldn't hurt to give herbs a try since there were no other options. She treated him with a decoction of dandelion root she grubbed up from the stony gravel of her driveway one rainy fall day many years ago. The cat lived, her first plant spirit guide was found, and she hoped that someday someone might say as she walked by "Hey! There goes that dandelion lady!"