I  am an animist, creating a sacred healing space where people and spirits can come together and learn to walk in balance. 
I am a mad poet-farmer, in the tradition of Wendell Berry, rooted in the land, finding prophetic visions swimming in the rivers and amongst the weeds. I write poetry, invocations, prayers, and liturgy. I craft words that people can use when they find themselves wordless.
I am a queer, anti-racist feminist. I believe that we all must be free before anyone is free. I believe in the small and sustainable, not the big and corporate. I believe actions matter. 
I am a swan woman walking with power, protecting her family and community, rooting deep into the medicine of the land, bringing forth the bright blossoms of the sun and taking wishes to the moon. I am a trained organic farmer. I've worked at a number of farms in my hometown, growing food, herbs, and flowers. I've studied herbalism for many years now too. I combine my knowledge of writing and graphic design with this knowledge to educate and teach others how to live close to the land. My goal is to help others move closer to a world of environmental and social justice.  Sustainability is for everyone. 
As an artist, writer, and ceremonial designer I use my knowledge of ancient traditional lore combined with modern psychology and sociology to move towards a culture of consent, equity, and sustainability.
I create infographics, coloring pages, blog posts, documents and zines on these topics and more.  I make witch boxes to send out, filled with locally and sustainably sourced devotional tools. I teach classes on gardening and meditation. I make art that is connected to ancient lore and modern devotion to the seasons.  I am learning new skills every day to improve my ability to communicate, educate, and create. 
Find me around the web:
Patreon has special content, coloring pages, moon spells, personal blog posts, and bonus PDFs as well as access to my newest artwork.
Instagram is filled with rainbows, skulls, and things that delight. Give me a follow!
Just like the rest of the world, Facebook has eaten my life.  You can find me chatting at the Polytheist Network and my  Writer's Page.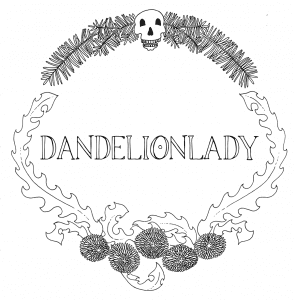 If you're curious, the name Dandelionlady comes from the ancient days of LiveJournal. The story goes that my cat was sick and I couldn't afford the expensive blood transfusion that would help him live. I brought him home to pass with those he loved, but decided it wouldn't hurt to give herbs a try since there were no other options. I treated him with a decoction of dandelion root I grubbed up from the stony gravel of my driveway one rainy fall day many years ago.  The cat lived, and my first plant spirit guide was found.
I hoped that someday someone might say as I walked by "Hey! There goes that dandelion lady!"