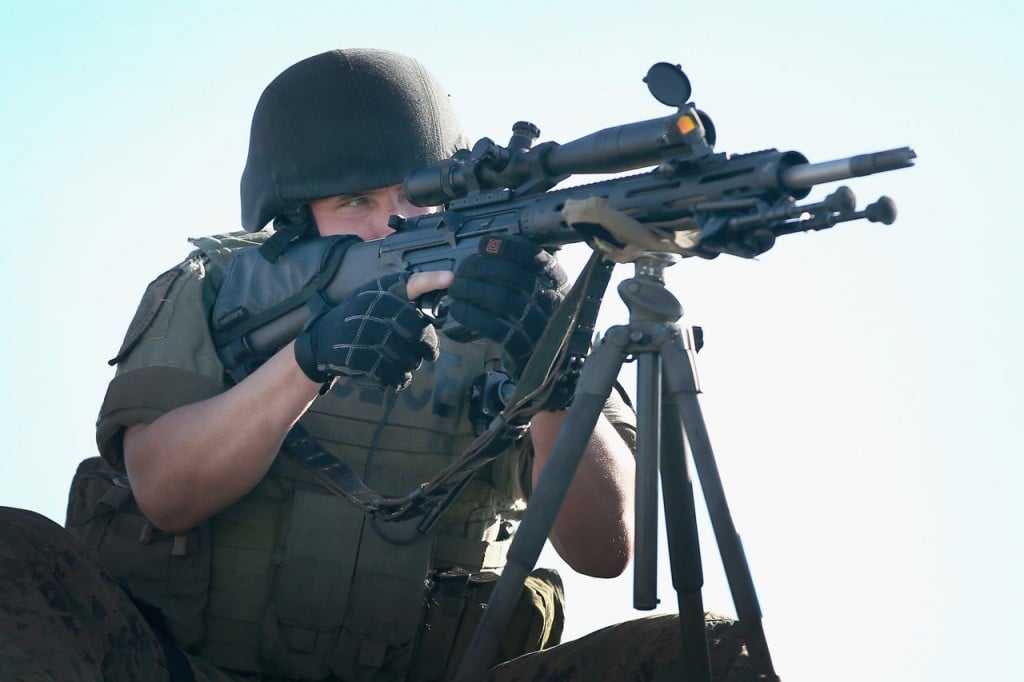 Ferguson police have decided their tactic, and that is to blame the victim.
Released today are alleged photos of the victim Michael Brown in what police are calling a "strong-arm robbery" meaning they robbed a convenience store without the use of a weapon.
The photos shown here in a Tweet from Ryan Reilly of the Huffington Post:
Stills from camera pic.twitter.com/FEcmKc3oGr

— Ryan J. Reilly (@ryanjreilly) August 15, 2014
However, even if the allegations are true and Brown is guilty of the robbery, the Ferguson police are ignoring that their officer shot and killed and unarmed suspect who by all witness accounts had his hands up to surrender. Also, the police were happy to release info about the suspect and his alleged crime, but only today released the officer's name, Darren Wilson, but refuse to release his photo. This did little to satisfy the upset community. Update: According to a tweet from the Associated Press: Offer Wilson was unaware Brown was a robbery suspect at the time of the shooting.
BREAKING: Police chief: Officer who shot Michael Brown did not know he was a robbery suspect at the time.

— The Associated Press (@AP) August 15, 2014
The Brown's lawyer released a statement earlier today about the smear campaign being led by the Ferguson Police Force:
Michael Brown's family is beyond outraged at the devious way the police chief has chosen to disseminate piece mil information in a manner intended to assassinate the character of their son, following such a brutal assassination of his person in broad daylight.

There is nothing based on the facts that have been placed before us that can justify the execution style murder of their child by this police officer as he held his hands up, which is the universal sign of surrender.

The prolonged release of the officer's name and then the subsequent alleged information regarding a robbery is the reason why the family and the local community have such distrust for the local law enforcement agencies.

It is no way transparent to release the still photographs alleged to be Michael Brown and refuse to release the photographs of the officer that executed him.

The police strategy of attempting to blame the victim will not divert our attention, from being focused on the autopsy, ballistics report and the trajectory of the bullets that caused Michael's death and will demonstrate to the world this brutal execution of an unarmed teenager.

Benjamin L Crump, Esq.


Anthony D. Gray, Esq.
Daryl D. Parks, Esq.
This campaign from the department and the timing of this release is pure stupidity from my point of view. The facts we know about this case so far still point to the fact that an unarmed teen was gunned down in the middle of the street while surrendering, and regardless of any truth to the allegations, that doesn't change.