According to an article published today in the Courier Journal, Ken Ham's Ark Encounter may be losing its recent 18 million dollar tax incentive due to the discriminatory hiring practices that were uncovered and highlighted right here.
"The Commonwealth doesn't believe that Ark Encounter, LLC will be complying with state and Federal law in its hiring practices," Bob Stewart, secretary of the Kentucky Tourism, Arts and Heritage Cabinet, said in an Aug. 27 letter to an Ark Encounter attorney.
Stewart said the hiring practices of the park raised "serious concerns" over the requirement for potential employees to sign a "statement of faith" in order to even apply for a position.
"Therefore, we are not prepared to move forward with consideration of the application for final approval without the assurance of Ark Encounter, LLC that it will not discriminate in any way on the basis of religion in hiring," Stewart wrote.
James Parsons, the Ark Encounters lawyer replied stating the same thing Ken Ham tried to tell me when I called him out for these claims on a radio interview in August. The image below shows the parks employment requirements and a series of tweets.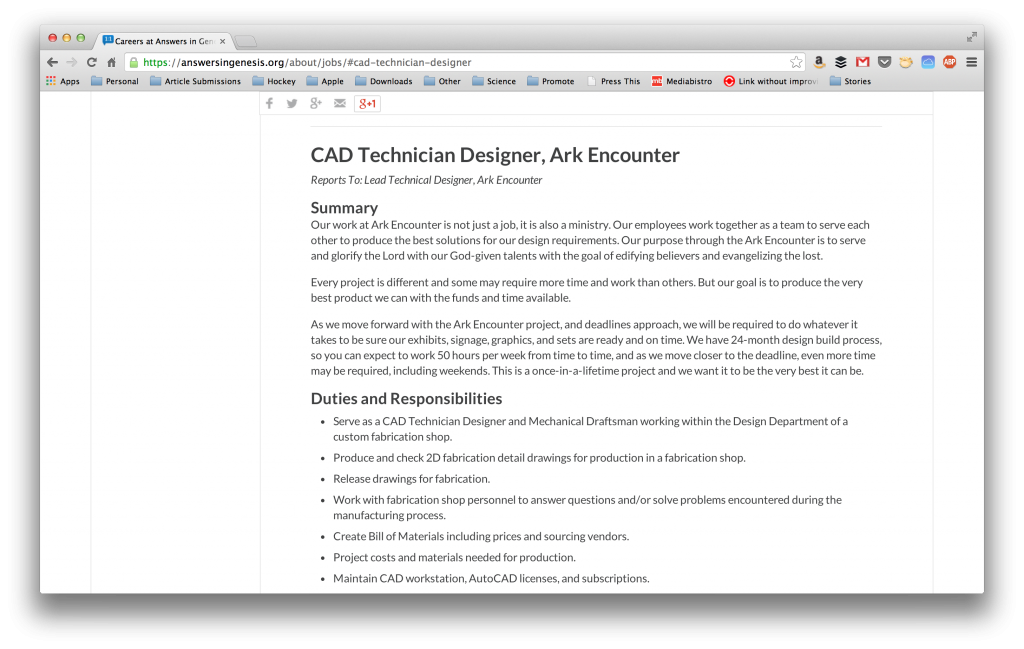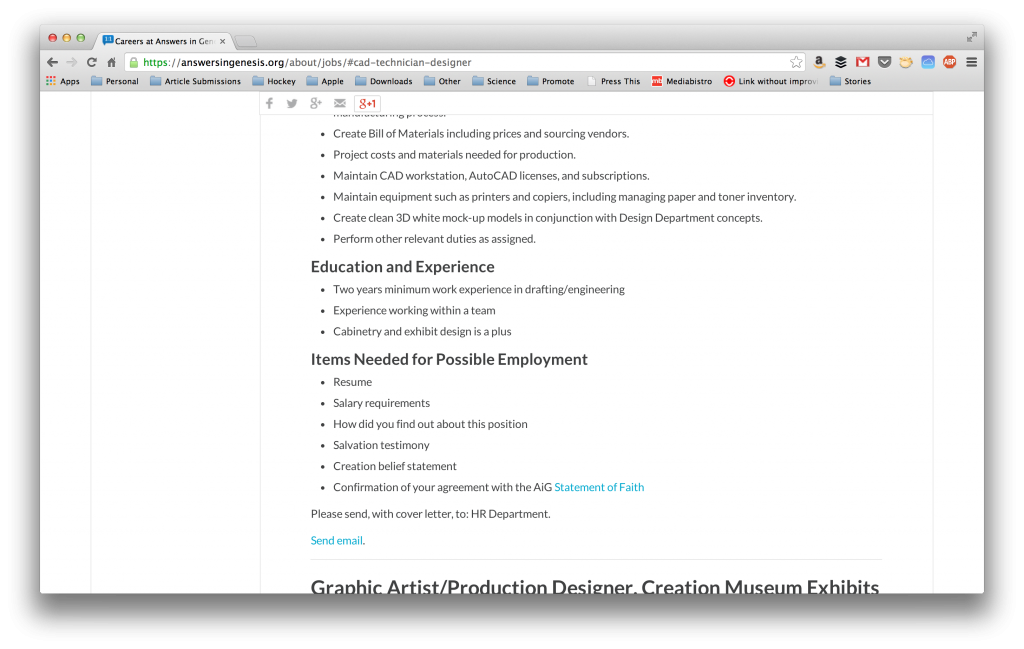 I then questioned Ham's claim on Twitter:
@danarel This is an Answers in Genesis position not Ark Encounter

— Ken Ham (@aigkenham) August 11, 2014
Silly me for thinking the job posting for the Ark Encounter was actually for the Ark Encounter. Unless of course Ham is trying to skirt around government regulations by hiring all the park employees through his non-profit, and if so, I cannot wait for those legal battles.
This prompted me to contact American United, who in turn sent a letter to the Governor of Kentucky urging them to end the tax incentive deal with the park. It seemed as though Ham was trying to use a non-profit business to do the hiring for his for-profit business in order to hold employees to a religious test. In an email to American United, questioning the legality of this tactic they said:
Both federal and Kentucky civil rights laws contain exemptions for religious organizations from laws prohibiting employment discrimination based on religion. If an employer is a for-profit employer, this lessens the likelihood that a court will find that the employer is eligible for these exemptions. That's probably why the hiring is being done by AIG, not the Ark Encounter. I don't know of any law that makes this technique illegal on its face. However, the fact that the work will actually be done for a for-profit entity – the Ark Encounter ­– makes it less likely that a court would ultimately find that the religious employment discrimination is legal. The fact that the employment is being supported by a tax subsidy also would weigh against a conclusion that such discrimination is legal.

(My emphasis added.)
It seems they were right, yet it has not reached the courts yet, the state is not buying this tactic.
Stewart replied to Parsons' claim that the hiring practices of the park were not discriminatory and would be in compliance with state and federal laws:
"The Commonwealth does not provide incentives to any company that discriminates on the basis of religion and we will not make any exception for Ark Encounter, LLC…" Stewart wrote. "The Commonwealth must have the express written assurance from Ark Encounter, LLC that it will not discriminate in any way on the basis of religion in hiring."
It seems Ham's plan to cheat the taxpayers out of millions of dollars and then avoid secular laws has backfired. Of course, Ham will simply cry persecution and claim this is a war against Christianity. This much is certain.
It seems now the park either has to fall into line and obey secular laws, or lose the 18 million dollar tax incentive they desperately need if they plan to complete this ridiculous park.