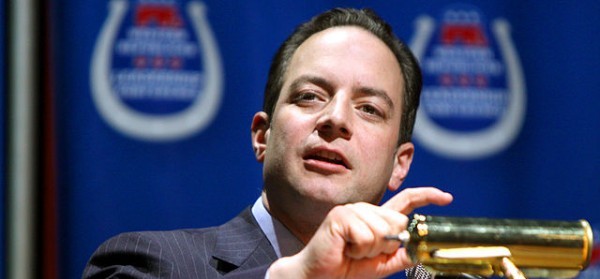 Remember this in 6 months when the GOP starts crying that President Obama is not working with them. The right wing chatterbox is already claiming they will not work with the president and they "don't believe a thing he says."
That quote comes direct from Republican National Committee Chair Reince Priebus who continued by saying:
"So he's been talking about immigration reform for seven years, you're using his words as if they actually mean something and asking me to respond to it. He's been talking about this when he had 60 votes in the Senate and Nancy Pelosi in the House and they didn't do a darn thing."
When pressed by CNN host Erin Burnett about his tone, saying, "You're not putting forth a tone that is 'alright, let's do a fresh start and work together,'" Priebus responded:
"Now to come back and say, after the American people repudiated the policies of Barack Obama and everyone that was connected to him to now say, 'what are you guys going to do to compromise with the person the American people had just repudiated?'" He continued, "I think it's a little bizarre."
So that's it folks, this is the GOP strategy; refuse to work with the White House and then come 2016 complain that the White House would not work with them.
(h/t TPM)