This years Global Terrorism Index report by The Institute for Economics and Peace has been released and with some major new details that seems to disrupt the narrative of those like Glenn Greenwald and even myself. Previous studies have strongly suggested that politics played a leading role in terrorism but it seems that this has shifted and with more middle east instability and the rise of groups like ISIS/ISIL, the focus on politics is more heavily focused on religion.
Here are some findings from the study:
– 17,958 people were killed in terrorist attacks last year, that's 61% more than the previous year.

– 82% of all deaths from terrorist attack occur in just 5 countries: Iraq, Afghanistan, Pakistan, Nigeria and Syria.

– Last year terrorism was dominated by four groups: the Taliban, Boko Haram, ISIL, and al Qa'ida.

– More than 90% of all terrorist attacks occur in countries that have gross human rights violations.
The chart I found most alarming was the Trends in Terrorist Group Ideology from 2000-2013 showing just how incredibly the rise of religious influence has been in terrorism.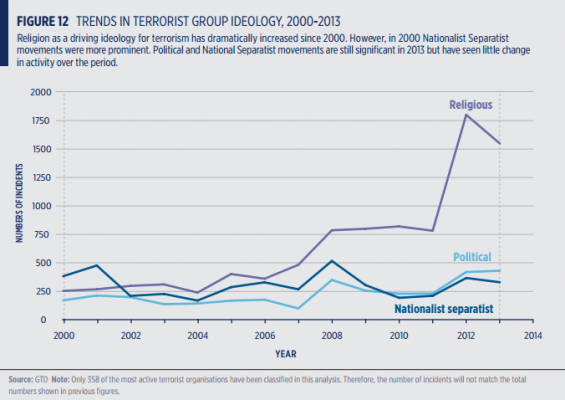 To quote from Michael Luciano at The Daily Banter,
Some 82% of those who died in terrorist attacks in 2013 were killed in five countries: Iraq, Afghanistan, Pakistan, Nigeria and Syria, which is where the aforementioned jihadist groups flourish. Iraq incurred the most deaths of any country with 6,362 people dying in 2,492 attacks. Despite the common claim that poverty and lack of education fuel terrorism, "Poverty rates, levels of schools attendance and most economic factors have no association with terrorism," the GTI found.
What this study shows us is that the motivations are always changing, as we look back we see politics and nationalism playing a much stronger role and today we see religion as the more dominant power.
This is the information we need to address how to solve this problem moving forward. Yes, part of the solution does involve ending American imperialism (as well as its allies) but it also needs a much stronger influence from religious moderates who hold a major key to solving this issue. As the study notes:
"To counteract the rise of religious extremism, moderate Sunni theologies need to be cultivated by credible forces within Islam. The current political context underscores the importance of moderate Sunni countries and not outside influences leading such a response."
Religious extremism and terrorism is not a problem the west can solve and is surely not a problem the west can bomb away, but it is time we start to think outside of the box and look at real world solutions. America can play a role in the solution, but America cannot be the solution.