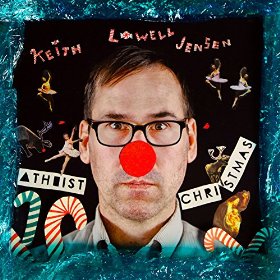 Many people love Christmas, including atheists and humanists that celebrate it secularly. Some people loathe the season and some struggle to manage their depression or other mental illness throughout a time that society is telling them to be merry and cheerful. In the War on Christmas, it has been made clear that ownership of this holiday is the cause of much strife with the proper associated salutations largely debatable. Whatever the holidays may include for anyone, many could agree that it all pairs well with a laugh.
Keith Lowell Jensen has artfully wrapped all of the highs and lows of the "Most Wonderful Time of the Year" into one aptly named comedy special called, "Atheist Christmas". In it, he addresses Christmas, being a non-believer during the holidays, depression, parenthood, grief, and the sometimes profound awkwardness of sexual awakening.
Having the pleasure of seeing him perform live and watching his video special, I was thrilled at being presented with the opportunity to conduct a brief interview.
Shanon: "Atheist Christmas" is definitely more than just a single prominent bit on your album. Christmas is a very strong theme throughout. What made you choose what many people would consider such an adversarial pairing of ideas for this project?
Keith: The seeming oxymoron of Atheist Christmas just struck me as funny, and it fits me because I sincerely love celebrating Christmas. The nostalgia, lights, gifts…it didn't stop being fun when I stopped believing Jesus. Hell, my family celebrates Bilbo Baggins' birthday too!
Shanon: Coping with depression, another holiday obstacle for many people, also creeps up from time to time in your comedy. How much did this coincide, at the time of your writing these jokes, with the passing of Robin Williams, and how closely do you think comedy and depression are related?
Keith: I have a new bit about how we're all diagnosed these days…depression, manic depressive, etc., and how some don't like it, but I think it's better than when we all just thought we all were assholes. I think it's universal to struggle with some degree of melancholy and we've all been touched by depression in our family or among our friends.
I don't know how related comedy and depression are, but it does make sense to use art to self-treat, and particularly to use an art form that masks depression. It's interesting to turn that on its ear by doing comedy ABOUT depression, and weird when the crowd laughs. I mentioned having had suicidal impulses in my act. This was the first time I've ever talked about that in front of my dad. So strange to pour my heart out like that and be laughed at, and to be glad to be laughed at.
This was recorded in Christmas 2013, because I didn't want to fake that it was Christmas, so it was before we lost Robin.
Shanon: I noticed that your album was strangely devoid of "sandwich jokes" and jabs at how funny it is when certain minorities do certain things. How do you manage to still be funny without using bits like this?
Keith: I laugh at dumb hack shit with my comedian friends as we drive to gigs, but I have different standards for what I'll do onstage. You'd be surprised how many comics disagree with this approach, saying I'm limiting myself and making it hard. I think that if we want to be good, it's supposed to be hard. When I heard David Byrne say that Talking Heads just made a list of what they didn't want to sound like, and what was left was Talking Heads, I was encouraged to continue "limiting" myself.
Shanon: After watching "Atheist Christmas" and seeing you perform live, I think it is safe to say that your child will soon surpass you in comedy prowess. Do you have some kind of contingency plan in mind for when this happens, or do you plan to willingly sacrifice yourself to the comedic powerhouse you are raising?
Keith: I can't wait to retire and let her go earn the checks. She's a blast and really loves making people laugh.
Shanon: What has been the most rewarding aspect of pursuing a career in stand-up comedy?
Keith: Letters from people telling me my comedy has meant something to them, has made them feel less alone or more confident in some aspect of themselves. Music and comedy did this for me during a sometimes rough childhood and I love the idea of others getting strength and comfort from my art.
You can find out more about the talented Keith Lowell Jensen on his own personal blog at: http://keithlowelljensen.blogspot.com/2011/08/biography.html
And you can purchase your very own Atheist Christmas at: http://keithlowelljensen.blogspot.com/2014/11/atheist-christmas-out-now.html
Or watch it on Hulu: http://www.hulu.com/watch/727565
Atheist Christmas makes a great gift for anyone, especially that passive aggressive family member that insists on closing all discussions with, "I'll pray for you," and wraps purloined hotel Bibles as stocking stuffers.
I can't express my gratitude enough to people like Keith that can keep us laughing through the ups and downs of each of our unique holiday experiences. I hope to see a lot more from him as well as other secular artists and authors in the coming year.