Hello everyone!
My friend Dan Arel kindly asked if I'd be willing to contribute to his blog; of course, I happily accepted the offer. I'm grateful for the opportunity to share my thoughts and feelings with his gracious audience and I hope to find a place of acceptance with those who've found his writing as entertaining as I.
I'd like to introduce myself. I'm J. D. Brucker; an atheist author and an outspoken skeptic. I'm the author of Improbable: Issues with the God Hypothesis and God Needs To Go: Why Christian Beliefs Fail (coming mid-2015).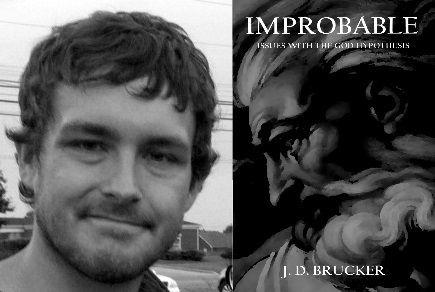 I was raised in a moderate Christian household with little religious influence up until my father married a member of the Jehovah's Witnesses. My father placed my sister and I in a small Lutheran school when I was roughly 13. Though I adamantly wanted to please those around me by believing, my skeptical side kept me from wholeheartedly believing the claims that were being fed to me. I've been atheist for many many years, but learned of the community only three years ago. Ever since, I've been a vocal atheist with a passion for the truth. I also blog at Atheist Republic as well as my personal website.
As an author and blogger, my goal is to inform those who may possibly remain ignorant to atheism and skepticism. That being said, my blog posts on Danthropology will primarily focus on rebutting the arguments for god's existence as well as taking a skeptical look at alternative medicines, crypotzoology, and other forms of "woo".
I'm happy to be a part of Dan's page and I look forward to connecting with new and interesting people.
Take care, everyone.