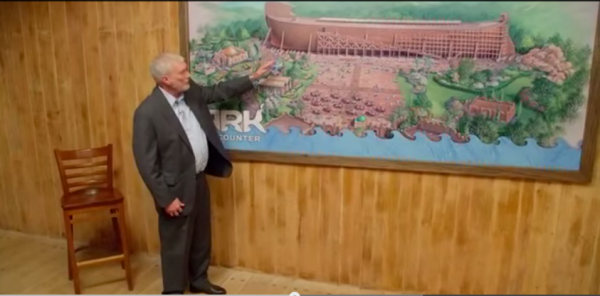 What is religious liberty? Well if you really want to know, the worst person you could ask would be Ken Ham, but he is going to tell you anyway.
Ham has posted a new blog titled, What's Happening to America's Free Exercise of Religion?
In it, he claims that the right to freely exercise religious beliefs is under attack in the US, meaning he thinks his right to demand religious privilege is under attack.
Ham writes,
[…] We are seeing an increasing number of examples where the free exercise of religion is being restricted (particularly toward Christianity) in this nation. Those secularists who disagree with Christianity do have the free exercise of their own religion, but Christians increasingly are being restricted in such free exercise. It's a part of the secularists' growing intolerance of those who disagree with them.
What possible examples could he have to prove this incredibly bold statement? Well let's have a look, because both are amazing in their ignorance of what religious liberty actually is.
1. The Ark Encounter.
Ham says,
Answers in Genesis is working with constitutional law attorneys in regard to the State of Kentucky's decision to deny the Ark project access to the state's sales tax rebate incentive program. The state contends that the religious nature of our project should somehow exclude its equal participation in the rebate program, but Kentucky's position is a blatant violation of federal and state law. Stay tuned for further developments on this matter, as AiG recognizes the huge implications of this dispute for other Christian organizations and individuals nationwide.

The free exercise of religion is being increasingly granted to the secular religion, but not Christianity!
Alright, this again? As I have written more times than I now care to count, the project lost its funding because it broke state and federal laws by discriminating against potential employees.
Here is the law again in case you missed it. According to the U.S. Equal Employment Opportunity Commission website:
Religious discrimination involves treating a person (an applicant or employee) unfavorably because of his or her religious beliefs. The law protects not only people who belong to traditional, organized religions, such as Buddhism, Christianity, Hinduism, Islam, and Judaism, but also others who have sincerely held religious, ethical or moral beliefs.
And then plainly states:
The law forbids discrimination when it comes to any aspect of employment, including hiring, firing, pay, job assignments, promotions, layoff, training, fringe benefits, and any other term or condition of employment.
The park is a "for-profit" business and must abide by all the secular laws.
2. Atlanta fire chief being fired for his religious beliefs.
Ham again,
Second, we note that Atlanta's fire and rescue chief was recently fired because of his personal views on homosexual conduct. Dr. Mohler wrote a powerful blog on this firing that I encourage you to read. In this article, Dr. Mohler, referring to a statement by Atlanta's mayor about the fired fire chief, states this:

"Chief Cochran was fired precisely because his "personal religious beliefs" are, in the mayor's mind, incompatible with assuring every member of the department "that he or she is a valued member of the team and that fairness and respect guide employment decisions."
What is really crazy is every last bit of that is a lie. All of it. It's insane. Cochran was fired for distributing a book against same-sex marriage (that he wrote) to his employees without following proper city laws in doing so. Cochran had a duty to inform the city of this book deal and to get permission before handing out his book. The work place is not the environment for city officials to proselytize religious beliefs.
I wrote about this very story for AlterNet, and the fire chief was not fired for his views against marriage, as I wrote then, Ham is ignoring that,
Atlanta Mayor Kasim Reed's own statement about the firing, saying clearly that Cochran was fired for his "lack of judgment in distributing the book to his employees, and not following instructions regarding his month-long suspension over publishing the book without notice to the city, is what led to his termination."

Mayor Reed reiterated that, "His religious (beliefs) are not the basis of the problem. His judgment is the basis of the problem."
I actually pointed this fact out to Ham when he tweeted the false report, and I know from history he reads my Tweets, so he is choosing to ignore the facts and lie more and more.
So these are the two very weak examples Ham has to run a scare tactic against his readers, and why would he do that?
Oh, I see, he is selling a DVD in this blog post about the very threat of religious liberty. How convenient.
Ken Ham could care less about religious liberty and the only god he worships is the almighty dollar.