My friend Phil Ferguson has a really great post about Answers in Genesis on his blog Skeptic Money, and while he visits the Ark Encounter project and the now filed lawsuit, he uncovers something very interesting that he found over at PZ Myers blog.
Answers in Genesis is spending more than they have and is almost certainly headed into a very bad financial disaster.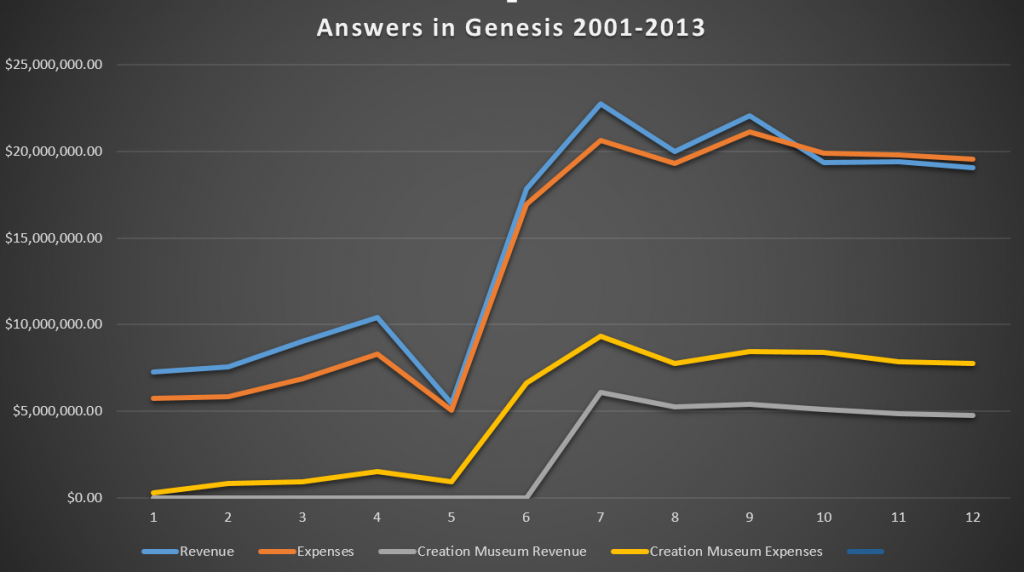 A fellow reader of Myers' named Brian site made this great chart showing the finances of AiG.
Ferguson noted that this chart, made with data from Answers in Genesis's 990 tax forms does not look good for AiG,
It does not look good.  While AiG brings in around $20 million per year the "museum" is losing about $3,000,000 per year.  That place is costing them a fortune but, they have found a way to collect more money from the suckers…. The ark!
Brian added this bit of commentary as well,
The most interesting conclusion I have come to is that the Ark Project is quite clearly an effort to gain a massive cash injection into the organization given the losses they have been sustaining due to the Creation Museum's operation.
The conclusion is AiG seems to be in some serious trouble and they really believed the Ark Encounter could unbury them, but since losing the $18,000,000 tax incentive they needed to complete the park, their future right now seems very bleak.
Ham either needs to find a way to kick up some massive donors, which seems unlikely or he needs prayer to actually start working, and that seems even more unlikely.