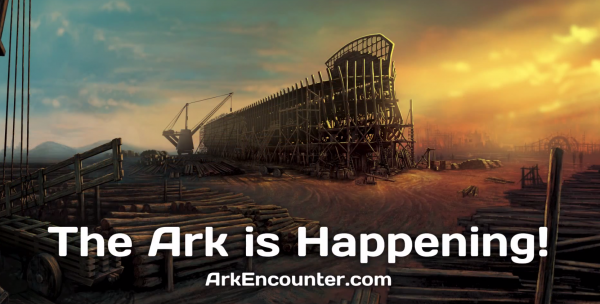 Last night, coupled with four Kentucky taxpayers, two of which are ordained ministers, Americans United for the Separation of Church and State has filed a motion to intervene as well as a motion to dismiss the lawsuit filed by Answers in Genesis against the state of Kentucky for the denial of an 18 million dollar tax incentive.
"A fundamentalist Christian theme park run by a creationist ministry doesn't deserve any form of public assistance," said the Rev. Barry W. Lynn, executive director of Americans United. "Kentucky never should have gotten involved with the Ark Park, but we're going to help get it out of this mess and protect taxpayer money from misuse."
Americans United have long been involved with Ken Ham's Ark Encounter project, following the companies actions since its announcement in 2010.
When the park filed and was granted a preliminary approval for an 18 million dollar tax incentive, along with this blog, AU sent a letter to Kentucky Gov. Steve Beshear asking for the case to be reviewed and suggesting that because of the parks behavior, the tax incentive be revoked.
And in December of 2014 the state did just that. In a letter to AiG, cabinet Secretary Bob Stewart wrote, "[I]t is readily apparent that the project has evolved from a tourism project to an extension of AIG's ministry that will no longer permit the Commonwealth to grant the project tourism development incentives."
In fact, AiG themselves have openly stated that, "The purpose of the Ark Encounter is to point people to the only means of salvation from sin, the Lord Jesus Christ, who also is the only God-appointed way to escape eternal destruction."
In the motion itself, AU states that it seeks to protect its clients' rights, under the Kentucky Constitution, to avoid funding a religious ministry against their wills.
Each of the Intervenors "believes that '[t]he tax rebates sought for Ark Encounter would effectively compel me, as a Kentucky taxpayer, to subsidize a religious ministry against my will.'"
AU's Senior Litigation Counsel Gregory M. Lipper said the,
"Ark Encounter is religious from bow to stern, and that means the government shouldn't be helping to build it. AiG has every right to spread its religious message, but taxpayers are not required to foot the bill."
According to a press release by AU, the Ark Encounter v. Stewart is being litigated by Americans United Legal Director Ayesha N. Khan, Lipper and Steven Gey Fellow Charles C. Gokey. David Tachau and Katherine E. McKune, from the Kentucky law firm of Tachau Meek, are serving as local counsel.