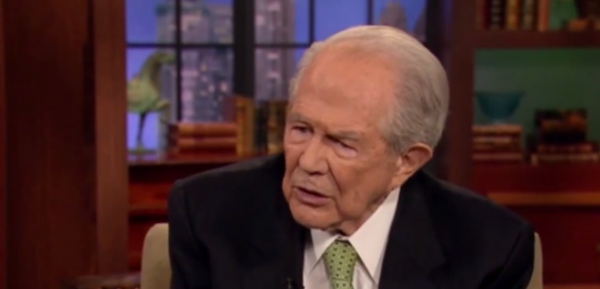 Always the pillar of compassion, Pat Robertson offered advice to a couple with a gay child, who was torn about attending the child's wedding.
Of course he urged them not to attend.
The viewer asked Robertson if her and her husband should attend the wedding of their gay child, saying that one parent was adamant about not going, saying, "because it's against the Lord's plan," while the other parent felt they should attend to show love and support for their child. Also known as good parenting…
Spoken like a true bigot, Robertson told the couple,
"You don't agree with it. You've got to stand there and be a witness to it," Robertson said. "By your attendance at the ceremony, you are agreeing with it … I just wouldn't go. I would tell your child, 'I love you but I cannot condone this. We will always love you but I don't condone this activity.'"
Robertson also urged the parents to be a unified front on the issue and not let the child think their indecision is tearing apart their marriage.
(h/t Right Wing Watch)