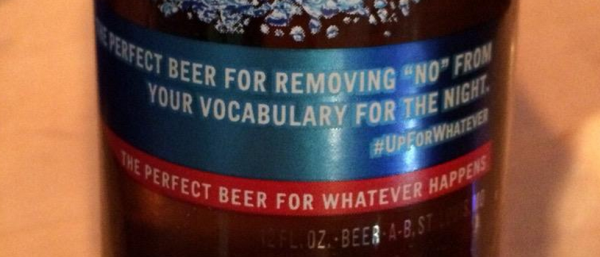 In what can only be described as terrible marketing, Bud Light has decided its beer is perfect for removing "no" from your vocabulary.
Perhaps Bud Light will soon be the official beer of American universities…
The official beer of rape culture. http://t.co/z9tuvacxjC pic.twitter.com/1H2t3fCrFt

— John Overholt (@john_overholt) April 28, 2015
How does this happen? How does a corporation which must have a million layers of red tape and people checking on ad work get this far?
Not a single employee said, "oh hey, this label sounds like we are endorsing rape"?
The company said in an apology that they simply "intended to encourage spontaneous fun."
I think it may be time to hire a new ad team.
(Image: John Overholt / Twitter)