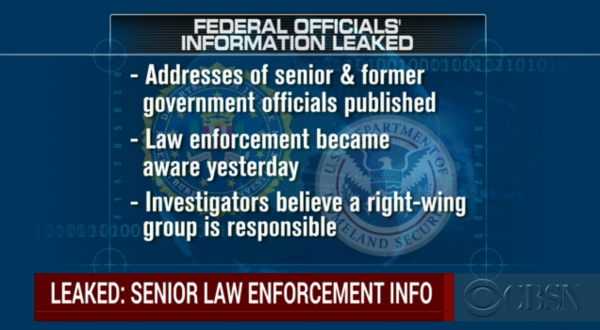 FBI officials are investigating what they believe is a right-wing extremist group who posted the information, including home addresses of senior officials and former officials of the Department of Homeland Security, the Federal Bureau of Investigation and other agencies.
The message along with the official's info, titled DHS-CIA-FBI TRAITORS HOME ADDRESSES said:
"LET THESE EVIL NWO SATANISTS KNOW THAT THERE WILL BE HELL TO PAY FOR THEIR 911 TREASON, AND THEIR FUTURE FEMA CAMP PLANNED PUBLIC CRACKDOWN TREASON ALSO
JESUS IS LORD, AND THE PUBLIC IS IN CHARGE, NOT THESE SATANIC NWO STOOGES"
Department of Homeland Security and FBI agents are working on locating the source of the post, but said unlike last months list of US Military personnel that was linked to ISIS, official believe this one is linked to a right-wing extremist group inside the US.
DHS released a statement saying, "The safety of our workforce is always a primary concern. DHS has notified employees who were identified in the posting and encouraged them to be vigilant. DHS will adjust security measures, as appropriate, to protect our employees."
A video report by CBS is available below.
(Photo: CBS News screenshot)