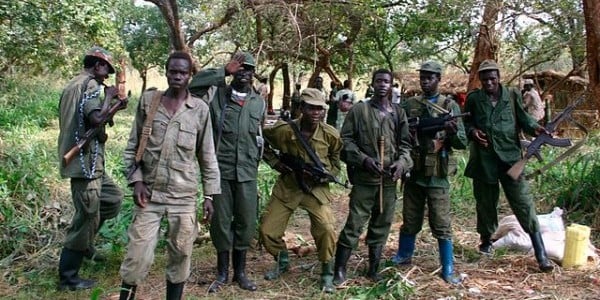 So much attention is put on Islamic terrorist groups these days that we often forget Islam is not alone in its extremism.
Raw Story posted an article today that looked at six of the top Christian terrorist organizations around the world. Something we must not forget about. While Islam may be the most prominent at the moment, we must not ignore other terrorist groups of any kind.
Not to repeat what Raw Story has already said, I want to quickly rundown their top six list.
1. The Army of God
They are described as,
A network of violent Christianists that has been active since the early 1980s, the Army of God openly promotes killing abortion providers
And while they are known mostly for their abortion bombing tactics, they have also endorsed violence against homosexuals.
2. Eastern Lightning, a.k.a. the Church of the Almighty God
A Chinese based extremist group Eastern Lightning is known for that,
that the world is coming to an end, and in the meantime, its duty is to slay as many demons as possible. 
This includes beating people to death for what they believe are demonic possessions.
They also kill anyone trying to leave the cult have even kidnapped members of other Christian organizations in an attempt to force them to join the cult.
3. The Lord's Resistance Army (LRA)
Most popularly known after a failed media campaign by Invisible Children, the LRA is run by Joseph Kony in Uganda. Raw Story describes the organization as such,
The word "jihadist" is seldom used in connection with the LRA, but in fact, the LRA's tactics are not unlike those of ISIS or Boko Haram. And the governments Kony hopes to establish in Sub-Saharan Africa would implement a Christianist equivalent of Islamic Sharia law.
Kony has become increasingly less effective it seems over the years, but the LRA is not dead and gone and their goals are no less dangerous than the Islamist groups we often condemn. The LRA is a great reminder that we cannot ignore other religious extremism simply because it seems less prominent because it gets much less media attention.
4. The National Liberation Front of Tripura
Best described,
Most of India's Christians are peaceful, but a major exception is the National Liberation Front of Tripura (NLFT). Active in the state of Tripura in Northeastern India since 1989, NLFT is a paramilitary Christianist movement that hopes to secede from India and establish a Christian fundamentalist government in Tripura. 
To flex their muscle in India,
In 2000, NLFT vowed to kill anyone who participated in Durga Puja (an annual Hindu festival) And in May 2003, at least 30 Hindus were murdered during one of NLFT's killing sprees.
5. The Phineas Priesthood
White supremacist groups are not necessarily Christian, but some such as the KKK rely heavily on Christian doctrines, or at the very least their interpretation of such. Since the KKK's inception other Christian based white supremacy groups have emerged and such group is the,
Phineas Priesthood, whose members have been involved in violent activities ranging from abortion clinic bombings to bank robberies (mainly in the Pacific Northwest).
One of the most prominent attacks by a member was done in November 2014 in Austin, Texas when they fired over 100 rounds into federal buildings and a Mexican Consulate , before the shooter was shot and killed by police.
6. The Concerned Christians
This very strange pro-Israel, anti-Muslim group who believes their job is to convert all Jews to Christianity. The Concerned Christians are a doomsday cult in which members quit their jobs and devote their life to the cults mission which includes killing Muslims in Israel, or at least trying to.
In 1999, Israeli officials arrested 14 members of the Concerned Christians in Jerusalem and deported them from Israel because they suspected them of plotting terrorist attacks against Muslims. 
According to local reports in Denver from 2008 the cults founder, pastor Monte "Kim" Miller had not been seen in as many as 10 years and other members had gone into hiding.
Religious extremism is everywhere we look and we must remember to never apply too much western thought to the reformation of the worlds religions. While Christianity as a whole as made great strides since the days of burning witches, these extremists groups still exist, not only overseas but right in the United States and we must do all we can to end all religious extremism and not get wrapped up in the religion of the moment.