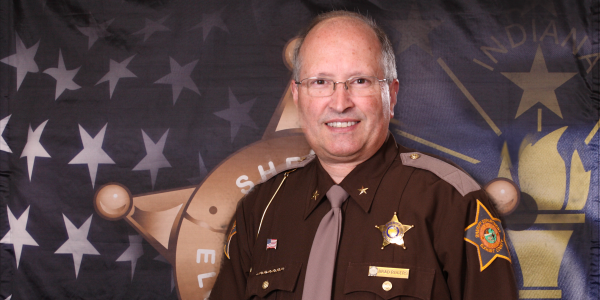 A small Indiana community is struggling with the shooting death of a 14-year-old boy who police found shot after an apparent altercation, according to the police report.
The city council has put forth suggestions on how to cut down on the increase in violence and murders such as this one, their suggestions were strong, such as stronger efforts to secure firearms in the home, greater community outreach and increasing officer patrols in troubled areas.
Then the community turned to it sheriff, Brad Rogers who offered his insight into the problem facing the community,
"You take God and prayer out of schools and you take discipline away from parents and teachers and you want the Sheriff to solve it? No. This is a community problem."
So Sheriff Rogers is taking zero responsibility for the increase in crime on his watch and is instead blaming it on a lack of school prayer?
The irony here is two fold, as Addicting Info notes, first, solving issues of violence is exactly what the sheriff is paid to do, so he is openly neglecting his responsibility to the community and secondly, Sheriff Rogers bills himself as the "constitutional" sheriff. The constitutional sheriff who apparently has never read the constitution or the first amendment.
With Facebook posts such as this showing his complete lack of constitutional responsibility,
"The next day John seeth Jesus coming unto him, and saith, Behold the Lamb of God, which taketh away the sin of the world." – John 1:29

Posted by Brad Rogers on Sunday, April 5, 2015
Sheriff Rogers came under fire locally when he actively supported rancher Cliven Bundy, the rancher who took up arms against federal agents when they attempted to remove his cattle from federally owned land in which Bundy had refused to pay millions in dollars for its use.
When asked about his trip to Nevada to support Bundy, the sheriff said,
"I will continue to fight against tyranny at all levels, and for all people (including liberals) and will be the proactive constitutional sheriff most Elkhart County citizens expect."
I hope the citizens of Elkhart Country didn't have high expectations, such as a sheriff who took responsibility for crimes in the area and worked to actually stop them, instead of blaming secularism and taking trips Nevada to point firearms at federal agents.
(Photo: Elkhart County Sheriff Dept)