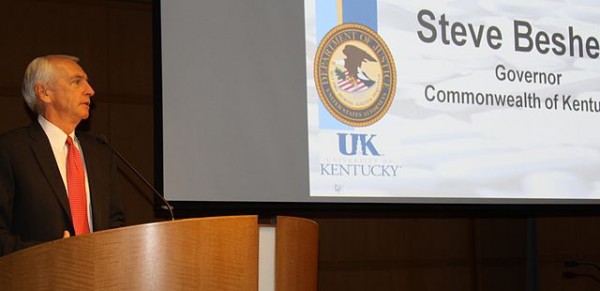 If you read this blog regularly you will be familiar with Kentucky Governor Steve Beshear, he is opposed to Ken Ham's Ark Encounter project being funded by state tax dollars after allegations of religious discrimination by the project proved to be true.
Well, as great as his opposition to the tax dollars funding a religious project is, the governor showed his true colors when he states that Kentucky's ban on same-sex marriage is not discrimination by giving the very worst excuse ever.
He basically claimed that because a straight person cannot get married to a person of the same sex, it is not discrimination that a gay person cannot marry someone of the same sex.
Kentucky's marriage laws treat homosexuals and heterosexuals the same and are facially neutral. Men and women, whether heterosexual or homosexual, are free to marry persons of the opposite sex under Kentucky law, and men and women, whether heterosexual or homosexual, cannot marry persons of the same sex under Kentucky law.
Is Gov. Beshear serious? He is saying that if a gay person wishes to get married they can, as long as they choose a partner of the opposite sex.
While I agree with governor on one issue, he has clearly shown he is just another right wing bigot who views homosexuals as second class citizens and will find any justification, no matter how far fetched to defend his bigoted views.