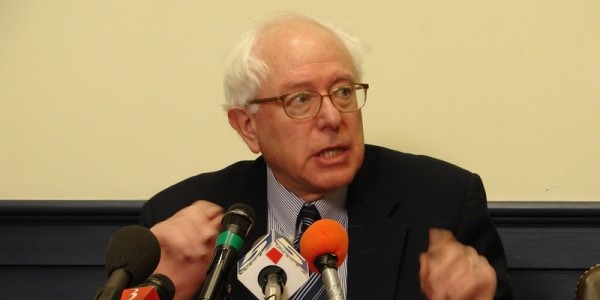 Sen. Bernie Sanders (I-VT), the senates only self-proclaimed socialist says he is nearing a decision on running for president.
Sanders says he is trying to see if he can raise the funds he needs to run a "credible campaign" in which he plans to address such issues as income inequality, unemployment, trade and climate change. 
Democratic socialist groups and liberal organizations are urging Sanders to run. One of those groups, the Democratic Socialists of America have started a petition called We Need Bernie in which they are urging the senator to enter the ring.
"Senator Sanders is a lifelong champion of the public programs and democratic rights that empower working class people. His candidacy could help expand both the progressive movement and the democratic socialist voice within that movement," the petition states.
Many do not believe Sanders has a legitimate shot in the race but many do believe his campaign could make a huge difference, shining light on such bills as the trade promotion authority legislation and help stop it from gaining approval in Congress.
His running would force candidates such as Hillary Clinton to take a firm position on the bill and drive the party back to the left. In recent years the Democratic Party has been seen to be shifting to the right and pandering to the moderate conservative movement. His campaign will also force the Republican Party candidates to make their positions known, showing the American people that the GOP is not interested in working in their best interests.
"I don't think any of us are against the concept of trade," Sanders said, referring to Democratic lawmakers attending a rally Wednesday on Capitol Hill. "Trade is a good thing. But we need trade agreements that work for the middle class and working families, not just for the CEOs of multinational corporations."
A Sanders candidacy would force the liberals in congress and running for president to be reminded of why they are liberals and also be reminded of what exactly liberal values are.
I for one have signed the DSA's petition urging Sanders to run. His winning would be an amazing feat, but I also believe his running is paramount to making sure liberal politics do not shift any further to the right.
(Photo: US Government / Public Domain / bernie.house.gov)