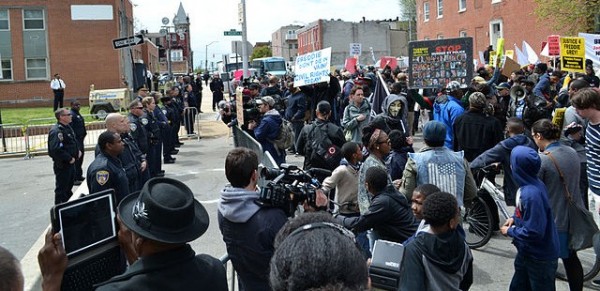 It is still unclear what exactly led to the mysterious death of Freddie Gray while he was in Baltimore police custody. Gray was arrested on April 12th and died in custody a week later on April 19th. One could speculate as to what happened, but it seems to me that the best possible explanation the PD could have is that Freddie Gray died as a result of the PD's negligence while he was in their custody, which is still rather damning. There are so many unanswered questions about the circumstances of his death and nobody to provide any straightforward answers.
There is no clear indication that Gray was lawfully apprehended in the first place. Reports indicate that, on the day of his arrest, Gray made eye contact with an officer and immediately took off running. The officer pursued him and arrested him. Gray has a few low-level offenses on his rap sheet, but there is no indication that he was wanted at the time of his arrest. All of this mystery is not aided by Baltimore PD's refusal to answer any questions regarding Gray's death in any definitive way. When Gray was apprehended, he did not resist and force was not necessary to detain him, which is confirmed by most eyewitnesses. Gray was carrying a pocketknife at the time, which is not a crime.
The subsequent protests that occurred after Gray's death are mostly what I want to talk about. For six full days, protests in Baltimore went on peacefully. No vandalism, no injuries, no violence, just a legal demonstration to make it clear that the widespread national plague of unjust death and detention of African Americans in the United States must end; Freddie Gray's death was emblematic of that sentiment. The problem, and the source of some protesters' frustration, was that their peaceful demonstration garnered no media attention, no measurable national support for their cause. How else could they bring the necessary attention to Gray's mysterious death? How else could they cry for help when their cries aren't heard? It wasn't until entropy took hold after a week and the protests descended into chaos that the folks at CNN, MSNBC, Fox News, and all the other mainstream media outlets decided it was worth covering after all.
It would be hard to justify the actions of the protesters who vandalized honest local businesses, police cars, and other public and private property around Baltimore.
Their actions seem counterproductive to their own, understandable, social desires. These violent actions led the governor to call in the National Guard to ensure public safety after dozens of vehicles, stores, and restaurants were damaged and robbed. Though history has shown such actions often increase the level of violence, a phenomenon studied by social-psychologists for many years.
15 officers have been reported injured. During an interview with Fox News correspondent Leland Vittert, a Baltimore city councilman shed light on the systemic racism that affects black Americans nationwide.
"Everything that's happening out here is wrong. The violence is wrong. That's never acceptable… There's a symptom of something that's going on here, and what I'm trying to articulate to you is that when you look at communities like this in urban America, it's lack of education. Lack of commercial development. Lack of opportunities. It's the socioeconomics of it. It has nothing to do with West Baltimore or this particular corner in Baltimore. This could erupt anywhere in socially-economically deprived America," he said.
Though over 10,000 people total took part in the protests and only an estimated 500-1000 took part in the violence, the latter unfortunately became the face of this protest rather than Freddie Gray's death.
For all of the keyboard crusaders out there on Facebook, rioting and looting the brain cells of your friends: Do you see the degradation of the greater United States ethic symbolically defined in the actions of Baltimore's violent protesters?
If so, please remember how passive you were when students at the University Kentucky rioted, causing fights and starting fires because they lost a basketball game earlier this month. Was this not an assault on the ideal American values we strive for?
While the violence seems unconscionable, at least Baltimore's protesters had a real reason to protest in the first place.
(Image: by Veggies / Protest at the Baltimore Police Department Western District building at N. Mount St. and Riggs Ave. / Creative Commons)
Andrew Rogers is a freelance writer and political commentator from Kent, Ohio who focuses on religion and social unrest. You can email Andrew here.