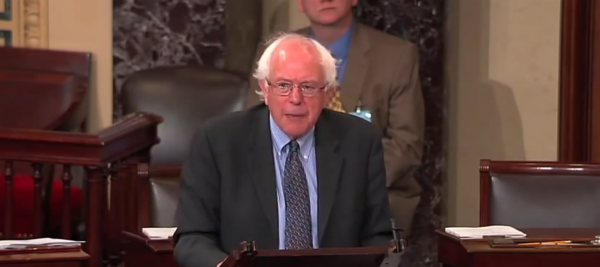 Over at the DailyKos, they have one of presidential candidate Bernie Sanders best speeches. If more Americans hear this speech, it could really give politicians like Hillary Clinton a run for their money.
Here is the video and below that are some of my own (and those of DailyKos') favorite moments.
There are workers out there 50, 55 years old who intended to work the remainder of their working lives, suddenly they got a pink slip, their self-esteem is destroyed, they a€™re never going to have another job again and now they a€™re worried about their retirement security.
What the American people are angry about is they understand that they did not cause this recession. Teachers did not cause this recession. Firefighters and police officers who are being attacked daily by governors all over this country did not cause this recession. Construction workers did not cause this recession. This recession was caused by the greed, the recklessness and illegal behavior of the people on Wall Street. They, the taxpayers of this country, bail out Wall Street, and Wall Street recovers. Wall Street does well, but now we have kids in this country graduating college deeply in debt, can't find a job. We have older workers losing their jobs and people are saying what is going on in America?
And as a result of this disastrous Citizens United decision which is now two years old, one of the worst decisions ever brought about by the Supreme Court of this country, a decision that they just reaffirmed a few days ago with regard to Montana, what the Supreme Court has said to the wealthiest people in this country, okay, you own almost all the wealth of this nation that's great, now we a€™re going to give you an opportunity to own the political life of this nation. And if you'€™re getting bored by just owning coal companies and casinos and manufacturing plants, you now have the opportunity to own the United States government.
Well, that'€™s not what America is about. That'€™s not what people fought and died to create. With that, we have got a fight on our hands. The job of the United States national is to represent the middle-class families of this country, all of the people, and not just the super-rich. I hope we can begin to do that.
(Image: YouTube screenshot)