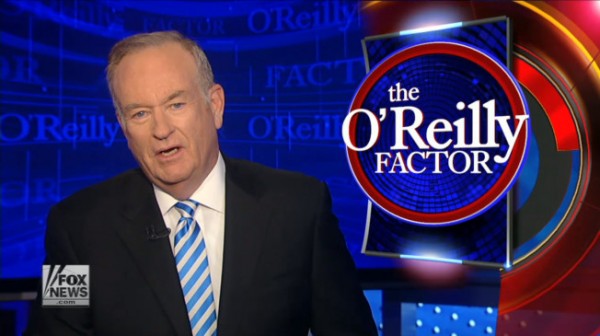 According to a report published today by Gawker, Fox News host Bill O'Reilly physically assaulted his now ex-wife, Maureen McPhilmy, in front of their daughter before the couple separated. The allegations apparently came to light during the couple's divorce proceedings.
According to the report:
According to a source familiar with the facts of the case, a court-appointed forensic examiner testified at a closed hearing that O'Reilly's daughter claimed to have witnessed her father dragging McPhilmy down a staircase by her neck, apparently unaware that the daughter was watching. The precise date of the alleged incident is unclear, but appears to have occurred before the couple separated in 2010. The same source indicated that the daughter, who is 16 years old, told the forensic examiner about the incident within the past year.
Gawker also reported that a Nassau County Supreme Court justice granted McPhilmy custody of the couple's two minor children and that O'Reilly has appealed the ruling.
They also reported that neither O'Reilly, McPhilmy or Fox News returned requests for comments.
The court proceedings are sealed, so much of what Gawker reported his hearsay, but O'Reilly's temper has been documented in the past, this, of course, does not make the allegations factual, but how Fox News handles a situation like this will be rather telling of the news organizations moral standards, of which it has proven to lack in the past.
(Image: Fox News Screen Capture)