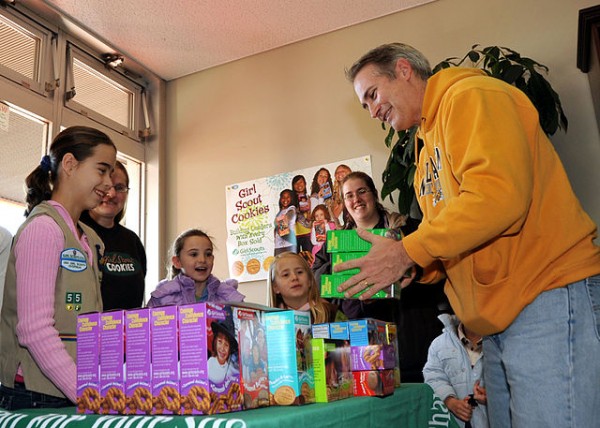 A commitment to equality reaffirmed last week by The Girl Scouts of America has the Christian Right up in arms.
The Girl Scouts have said they will serve "all girls," regardless of their look or biological sex.
"The foundation of diversity that Juliette Gordon Low established runs throughout Girl Scouting to this day," Archibald wrote. "Our mission to build 'girls of courage, confidence and character, who make the world a better place' extends to to all members, and through our program, girls develop the necessary leadership skills to advance diversity and promote tolerance."
According to the Girl Scouts website:
"Girl Scouts is proud to be the premier leadership organization for girls in the country. Placement of transgender youth is handled on a case-by-case basis, with the welfare and best interests of the child and the members of the troop/group in question a top priority," the site reads. "That said, if the child is recognized by the family and school/community as a girl and lives culturally as a girl, then Girl Scouts is an organization that can serve her in a setting that is both emotionally and physically safe."
This news has, of course, upset the bigoted Christian Right who called this announcement a "slap in the face to Christian parents."
The hateful rhetoric from the announcement starts with the Christian Post which titled their piece: Girl Scouts of America Allows Boys Who Identify as Girls to Join Troops; Opponent Says Policy Is 'Slap in the Face to Christian Parents'
"Boys who identify as girls" is a slap in the face to these girls, who identify as girls. CP does not understand the difference between sex and gender however because in the opening paragraphs they refer to "biological gender," something that doesn't actually exist. Gender is a social construct, a person can be gender fluid, transgender, or gender queer. Leave it to Christian Post to not understand or check any of this before going to print.
A petition to overturn the announcement by the American Family Association (AFA) has been launched, so far with over 35,000 signatures.
"This means girls in the organization will be forced to recognize and accept transgenderism as a normal lifestyle," the petition says. "Boys in skirts, boys in makeup and boys in tents will become a part of the program. This change will put young innocent girls at risk."
Yet there is no data from any organization that has ever shown transgender girls put anyone at any risk. This is nothing but a popular scare tactic used by the Christian Right into scaring organizations and lawmakers into bullying trans people and ending legal protections or inclusion.
"Adults are willing to experiment on our kids—both the boys who are confused and the girls who will wonder why a boy in a dress is in the bathroom with them," the petition adds.
So basically, AFA is upset that parents will be forced to answer questions their children may have about gender.
I for one welcome their stance and applaud the Girl Scouts for making their organization a safe place for all girls, and by reaffirming their commitment to all girls.
(Image: U.S. Navy photo by Mass Communication Specialist 2nd Class Steven Khor / Released / Public Domain)